Mark Your August Calendar for CSM's Register LIVE, Transfer Thursdays, Registration Assistance Sessions and the Return of the Hawks to Campus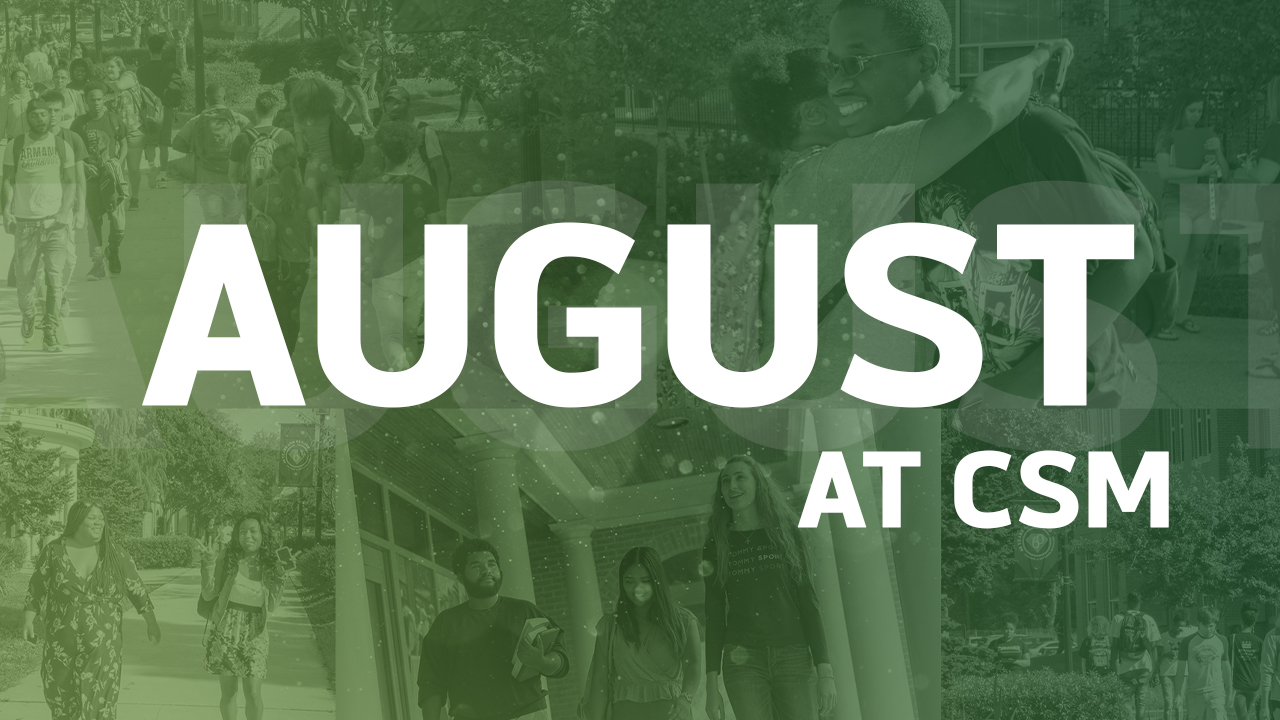 Registration Live! 11 a.m. Aug. 2 – 5. Zoom. Same day enrollment event to assist potential students with registration for the upcoming semester. RSVPs are required to access Zoom information. Free. https://www.csmd.edu/apply-register/events/registration-live.html 
Transfer Thursdays. 11 a.m. Aug. 6 – 26. Zoom. CSM hosts transfer institutions virtually each Thursday from 11 a.m. – 2 p.m. Representatives from two different institutions will be available to chat with students and help navigate their future transfer experience. RSVPs are required to access Zoom information. Free. https://www.csmd.edu/student-services/transfer-services/transfer-fairs/index.html.
Registration Assistance Sessions. 3-5 p.m. Thursday, Aug. 5; and 11 a.m. – 1 p.m. Thursdays Aug. 12 and 19.  Zoom. The sessions, which will be held virtually, will help students register for classes in their Student Planning account. Participants should already have access to their myCSMD account, as well as completion of placement test alternatives. Free. Registration required. Go to www.csmd.edu/apply-register/events/registration-assistance-sessions.html.  
Return of the Hawks! Aug. 23. All Day. College of Southern Maryland (CSM) returns to normal campus operations Aug. 23, 2021 and looks forward to seeing students who chose to attend classes on our campuses for the fall semester starting Aug. 25. Learn more at https://www.csmd.edu/news/2021/csm-returns-to-normal-campus-operations-aug.-23.html.
#VaxUpHawks: The College of Southern Maryland (CSM) has joined colleges and universities across the country to participate in the White House and U.S. Department of Education's efforts to end the pandemic by signing up for the COVID-19 College Vaccine Challenge. The goal is to have as many CSM students vaccinated by Sept. 1 as possible. CSM will also be hosting walk-in clinics at three of its campuses before the semester starts for students and the public. Those details include: La Plata Campus: Center for Business and Industry (BI Building) Rooms 103/104; July 27, 2-6 p.m. and Aug. 17, 2-6 p.m. Leonardtown Campus: Building C, Library, Rooms 102/103; Aug. 4, 2-6 p.m. and Aug. 25, 2-6 p.m. Prince Frederick Campus: John E. Harms Academic Center (Building A), Rooms 122/123; Aug. 12, 2-6 p.m. Sept. 2, 2-6 p.m. 
CMS Page Edit