"Everyone at CSM is incredibly excited about what the future holds as we work together with you, and our regional partners, to build success for Southern Maryland."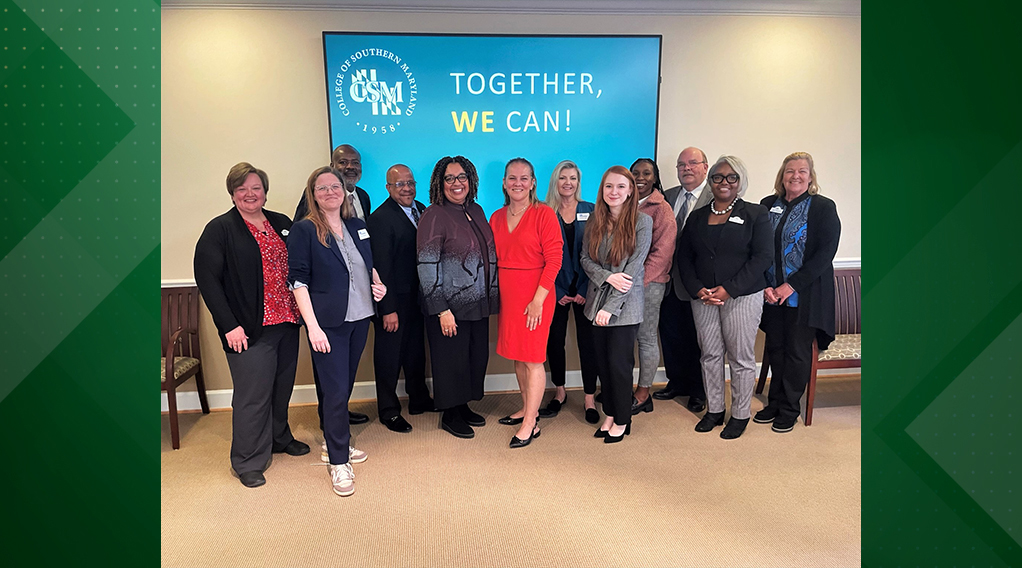 Members of the American Association of Community Colleges leadership team spent the day Nov. 3 meeting with College of Southern Maryland (CSM) leadership to learn about the college's workforce development initiatives; provide feedback for CSM's new five-year strategic plan; and tour both the La Plata Campus and the Velocity Center in Indian Head. During the visit, the AACC team received extensive overviews of the college's commitment to strengthen its business partnerships, build collaborative communities, and serve the southern Maryland region as the "hub' of learning, credentialing, workforce development, and mobility for all students.
"Everyone at CSM is incredibly excited about what the future holds as we work together with you, and our regional partners, to build success for Southern Maryland," CSM President Dr. Yolanda Wilson told the AACC team, adding that the key to building success in the region is by engaging in conversations that keep student access, momentum, and mobility at the core of all efforts.
"I deeply respect the work of the AACC and am well aware that AACC is chief among CSM's key advocates and partners," Wilson continued. "We remain grateful to AACC for your steadfast commitment to this college, and the nearly 1,200 two-year, associate degree-granting institutions in the nation. As community college's primary advocacy organization and our strongest and most influential national voice, we are truly indebted to AACC for your leadership, support, and service.  And we are honored to have you spend the day with us."
"The College of Southern Maryland's Division of Continuing Education and Workforce Development is dedicated to three things: investing in emerging skills needs through training; responding to the needs of business; and reshaping our workforce delivery system to meet the future needs of the region," shared Division of Continuing Education and Workforce Development Vice President Ellen Flowers-Fields. "A highly educated and skilled labor force are key indicators for positive business retention and expansion, and increased educational attainment leads to wealth creation. These are key metrics for economic development, and the College of Southern Maryland works with our regional partners to ensure that the local labor market needs of the businesses in our region are being met. We offer diverse training opportunities for those seeking a degree, an industry recognized certification or credential, as well as stackable credentials and skills upgrade training for existing workers."
Flowers-Fields added that CSM provides a talent pipeline that is diverse and inclusive, and went on to share that it was a "great privilege" to host the AACC team.
"CSM is grateful that AACC took the day to share their insights and resources with CSM," she said. "While there is much to be accomplished, we are heartened that together we will continue to strengthen our state's and nation's workforce pipeline."
Among the AACC attendees were, Assistant Project Manager Registered Apprenticeships Lauren Buckley; Director, Diversity, Equity and Inclusion Dr. Kevin Christian;  Associate Vice President Workforce and Economic Development John Dyer; Government Relations Manager Kathryn Gimborys; Membership Services Director Denise King; Workforce and Economic Development Project Manager Katy Nelson; Senior Vice President of Academic and Workforce Development Jen Worth and Workforce Grants Manager Lawrence Frison. Throughout the day, the AACC team heard from Wilson, Flowers-Fields, CSM Workforce Development Executive Director Kelly Winters, CSM Velocity Center Executive Director Lesley Quattlebaum and CSM Maryland Center for Environmental Training Director Melissa Coker.
CMS Page Edit