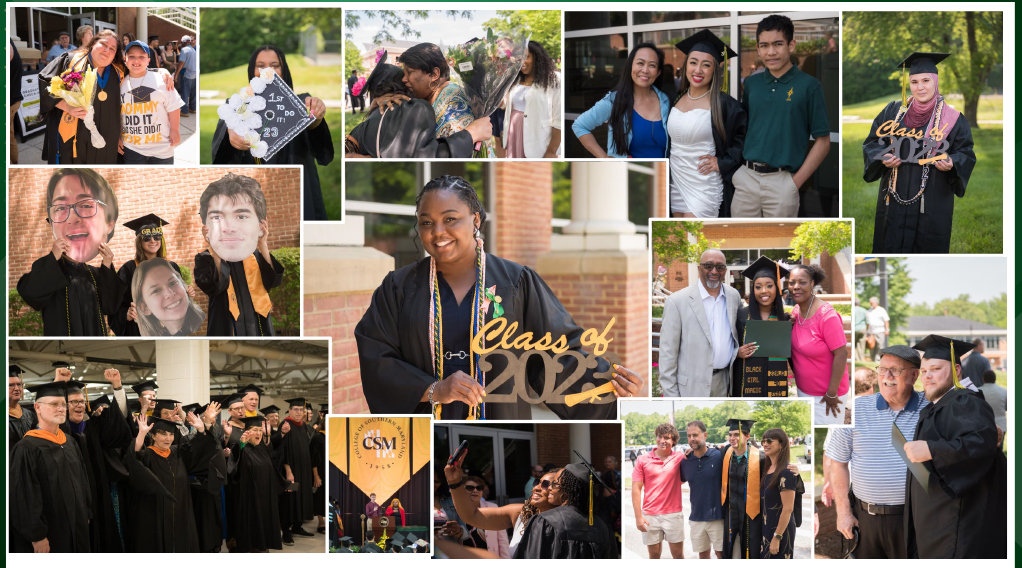 The College of Southern Maryland (CSM) returned to its La Plata Campus' Physical Education (PE) Building for the first time since 2020 to celebrate its time-honored graduation ceremonies in front of a packed house during its 64th Spring Commencement May 12. Four-hundred, seventy-one candidates for graduation were recognized for earning 389 degrees and 142 certificates – included among them – 62 Charles County Public School (CCPS) seniors who participated in the inaugural Early College program to earn their General Studies Transfer certificates. 
Of the students being celebrated, 217 were from Charles County, 132 were from St. Mary's County, 105 were from Calvert County and 17 were from outside the region. Sixty-five percent of the graduates are women and 35 percent- are men. Twenty-six percent of the students graduated with honors. The majority of degrees, or 20%, were in the field of arts and sciences, nursing (12.6%), business administration (10.3%), cybersecurity (7.2%) and social sciences, (6.2%). The top certificates obtained were in general studies transfer, graphic design, and advanced and basic accounting. The youngest graduate, Maroyo Owopetu, of Waldorf, is 16 years old and the oldest graduate, Leomie Brown, also of Waldorf, is 70 years young.  
 "Ain't nothing to it, but to do it"
Commencement was celebrated in three ceremonies to highlight each of CSM's three schools: The School of Liberal Arts, the School of Professional and Technical Studies and the School of Science and Health.
 After a beautiful rendition of the National Anthem, sung by CSM students Indya Hagans and Nathan Eldridge, the 10 a.m. ceremony for the School of Liberal Arts was filled with emotional speeches, the Early College graduation, the Faculty Excellence Award recognition and words of encouragement.   
At all three commencement ceremonies, CSM President Dr. Yolanda Wilson greeted the graduates with a personal letter, "from my heart to yours, that you can remember for months to come that chronicles your moments as a student, but points you onward to your future."
"Let me remind you that the same grit and determination that you needed to make it thus far... will be your blueprint for success; your bright, shining north star," Wilson said. "Continue to draw from that deep well; knowing your inner core runs so very deep. Remember to lean on your precious loved ones. Appreciate your tribe. Love your peeps. Your bright future awaits.  …  Our workforce needs you, our universities stand to welcome you. You are prepared and equipped for your next. Redeem the time, walk forward in your purpose. The College of Southern Maryland stands with you, confident in your success."  
Faculty Senate President George Bedell also addressed students at all three ceremonies. He joked about how he considered using artificial intelligence to write his speech, but then earnestly turned to the students to point out that the future is in fact, unwritten.
"And yet, while the future is unwritten, there is another truism that all of us in this room should feel good about – the writers of our future are right here before us," he said. "I mean you – the CSM graduating class of 2023. You have embraced education, you have chosen to construct a foundation based on learning, and on knowledge, so that you may build a better and brighter future for yourselves and for all of us."
CSM Board of Trustee Chair Shawn Coates introduced the keynote student speaker at each ceremony.
"Makayla Butler is going to share with us how when graduated from high school in 2020, she went straight into the workforce in order to save money for higher education," Coates explained of the day's first speaker. "After a winding journey of working at retail jobs during the pandemic, she turned to the College of Southern Maryland to explore deeper connections and possibilities for herself. Her first CSM internship turned into her current full-time position as a CSM Advising, Career, and Transfer Services Administrative Assistant – and I'm confident you will all be moved by her inspiring journey, and words of encouragement."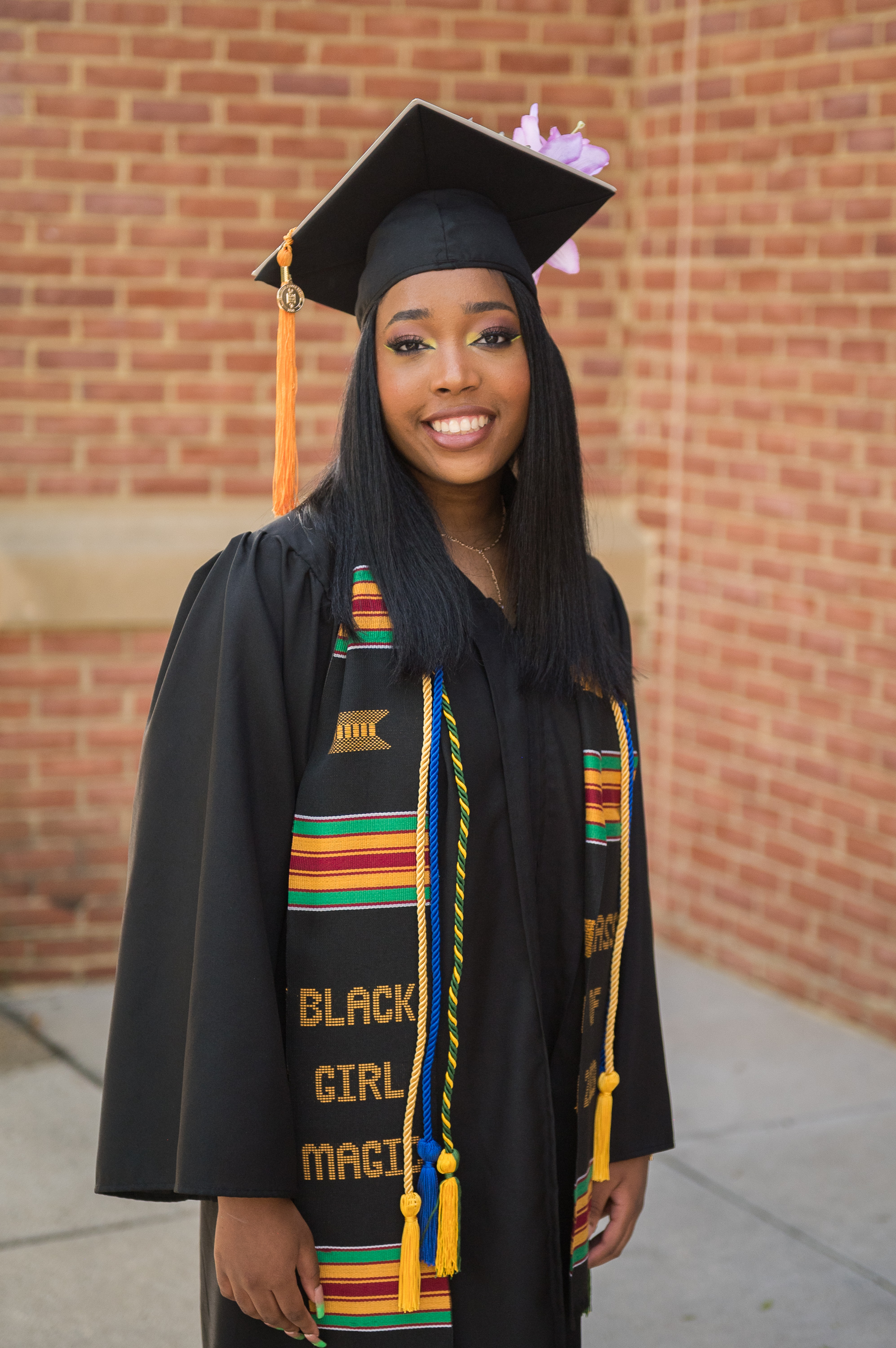 Butler, of Charles County, graduated with her Associate of Arts degree in Social Sciences and Arts and Sciences. She shared with her classmates how she discovered her love of sociology at CSM, and plans to pursue a career where she can help those in marginalized communities to relinquish their struggles and experience stability.
"Who am I talking about when I say 'marginalized communities?'" she asked. "Who, in our diverse community, am I advocating for? [The answer is] racial and ethnic minorities, the working class, women and sexual minorities, those of you who have disabilities, and anyone who has needlessly struggled to survive, even struggled with self-love. Today, my goal is to help people - the most vulnerable people in our communities who need it most – to see the value of education and help to mobilize them to have brighter futures."
The graduate also surprised her family by sharing from the podium a very special secret. Her parents knew that she had been accepted to transfer to the University of Maryland-Baltimore County and the University of Maryland-College Park on a full tuition scholarship, but they didn't know she had also been accepted to Duke and Georgetown universities. The news was met with resounding applause.
She credited her mom for her inspirational words that got her to, and through CSM, and had the audience repeat it back to her with her closing remarks: "Ain't nothing to it, but to do it!"
Also, during the 10 a.m. ceremony, Bedell recognized Professor Kimberley Donnelly with the 2023 Faculty Excellence Award. 
"Be the Old Bay and kick things up a notch"
During the 1 p.m. ceremony for the graduates of the School of Professional and Technical Studies, Lauren Davis, St. Mary's County, took to the podium to serve as their keynote student speaker with her inspiring story of perseverance that had her receiving her associate of applied science degree (AAS) 17 years after graduating from high school.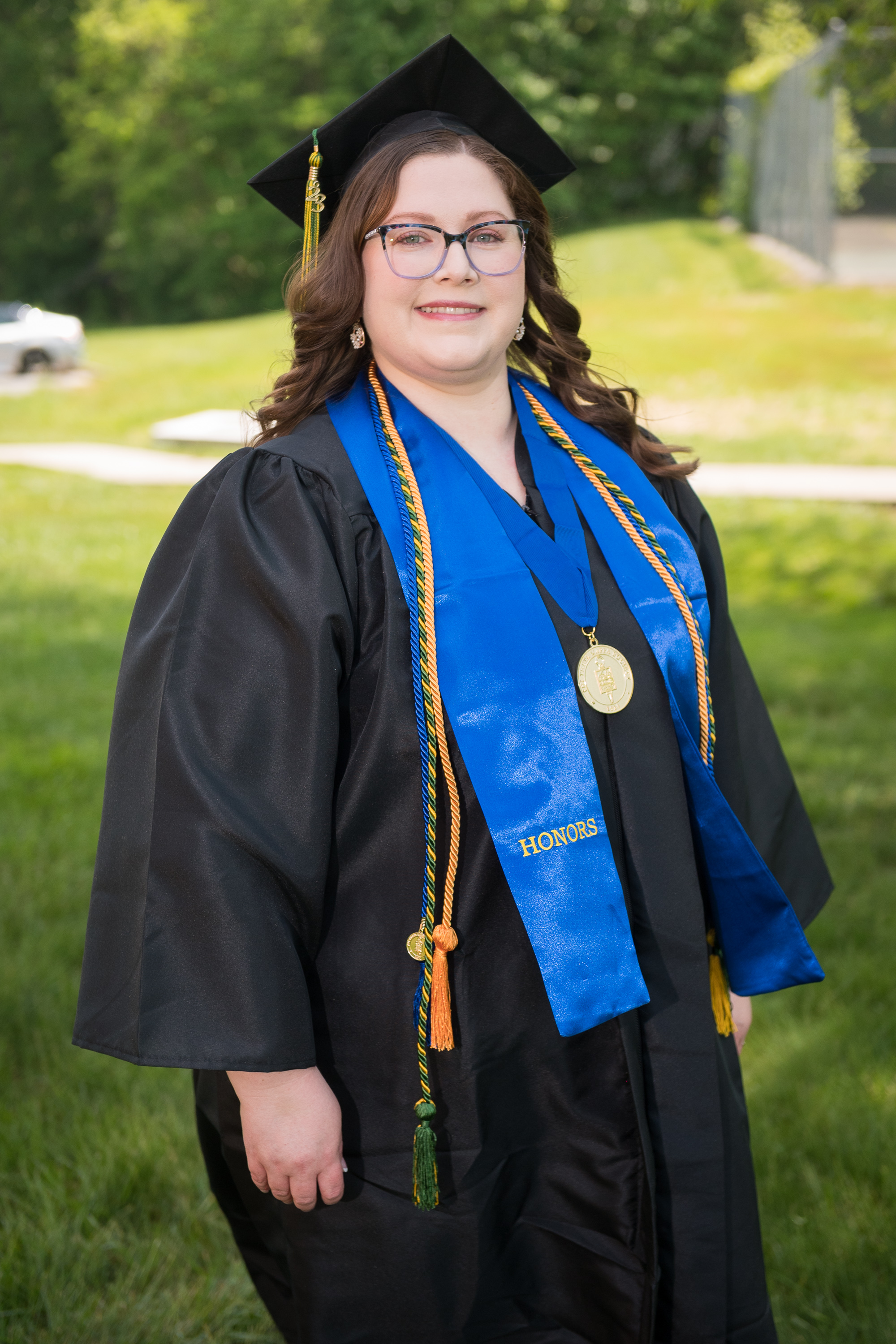 "Today, I am graduating with an AAS degree in Business Management," she said. "I am very proud to share that I reached this accomplishment – with the support of many – while working full time, during a pandemic, with three children - one of which is a toddler. Countless nights he has fallen asleep in my lap while I stay up late writing a paper or a discussion post.
"I honestly, did not fully understand what CSM meant when they advertised that the college was a workforce pipeline until I became involved with my professors and CSM staff at the start of the college's Delta Phi Chapter of Kappa Beta Delta Honor Society," she added. "Kappa Beta Delta is an honor society for students pursuing business degrees who rank in the top 20% of their class. This honor society has exposed us to a new network of business professionals and scholarships, and I can only imagine what the future will hold for new CSM inductees as we continue to build this network and relationship with businesses who are eager to hire us. Which is exactly what a workforce pipeline is."
After a well-deserved summer break, Davis will be transferring to Mary Baldwin University to pursue her bachelor's degree in Business Administration with a minor in management.
"Some of you may also be transferring in the fall, others may be starting on a new career path, and some of you may just be hoping to never submit another discussion post in your life - I don't blame you," she laughed. "However, all of us should remember to never stop learning. As Albert Einstein said, 'Once you stop learning, you start dying.'" 
She also encouraged the future CSM alumni who would be bound together forever, to remember their uniqueness.
"Our next poem, our next patient, our next technological advancement, or business venture, starts with just one idea," she reminded her classmates. "I have often said that each of our different personalities are like the spice of life; if we were all the same, life would be bland and boring. So, while I encourage you to be the sugar that sweetens someone's day, I also urge you to be the Old Bay to kick things up a notch."
Also, during the 1 p.m. ceremony, the Board of Trustee Chair Shawn Coates awarded Dr. David Hupp with the CSM Foundation's 2023 Distinguished Alumni Award.
674 days and 970,560 minutes
After a moving rendition of the National Anthem, sung by CSM Associate Dean of the School of Liberal Arts and Chair of the Visual and Performing Arts Dr. Stephen Johnson, the 4 p.m. School of Science and Health commencement ceremony saw Bree Kekesi, of Calvert County, take center stage to serve as her class' keynote student speaker. The Pre-Professional Health major will be transferring to Towson University to pursue her bachelor of science in Nursing, and eventually her doctorate in Nursing Practice.
"I am very proud to share with you that over the course of the past two years that I have been a full-time CSM student," she said. "I have also been a Phi Theta Kappa member, on the Dean's List, a scholarship recipient, the secretary of the Prince Frederick Campus Student Government Association, and a CSM employee. At my core, I want to make a difference in the lives of others, and strongly believe in equality and advocacy as a cornerstone for a better future."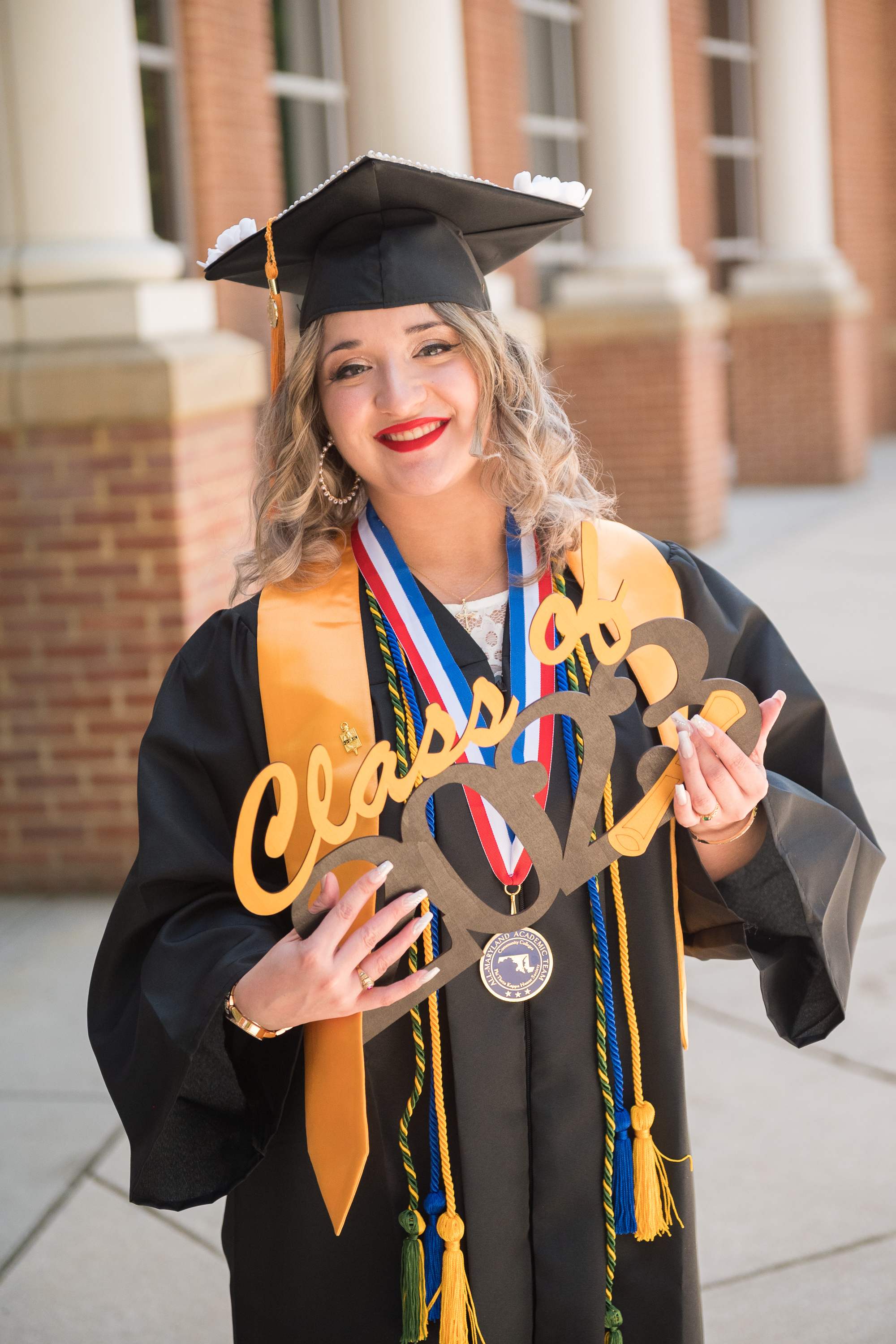 Before starting her classes at CSM, she was inspired by a quote from Alice Walker's 'The Color Purple' which was her summer read.
"It is an incredibly powerful read, and the author's line 'time moves slowly, but passes quickly,' came to mind when I started preparing my remarks a few weeks ago," Kekesi said. "It has been 674 days since I started my time at CSM, which amounts to 970,560 minutes, and what I can tell you is that I have learned a whole lot about myself, and about life in every one of those minutes."
She encouraged her classmates to make mistakes, and take those lessons they provide in stride, as that stumble could result in an open door that would have not become available otherwise.
"I am living proof of this, and I'm sure many of you are as well," she shared. "At worst, take that blunder and let it stand as another example of your resilience. No hurdle is too great to jump. After all, today is a result of your resilience and hard work. Each one of us is here despite the adversity we have faced. When we know where we are headed in life, we must reach deep into ourselves and remember the resilience we all possess and let it drive us forward during the difficult times."
In her closing remarks she quoted her favorite author, Jodi Picoult. "No amount of darkness can hide a spark of light."
For a full list of the candidates for graduation, please see https://www.csmd.edu/news/2023/csm-announces-2023-spring-commencement-candidates-for-graduation.html
A video of each commencement will be available for viewing on the college's YouTube channel -- https://www.youtube.com/@CSMDTube/playlists -- following the events. Photos from graduation are available for download at no cost at https://csmphoto.zenfolio.com/23maygrad.
CMS Page Edit