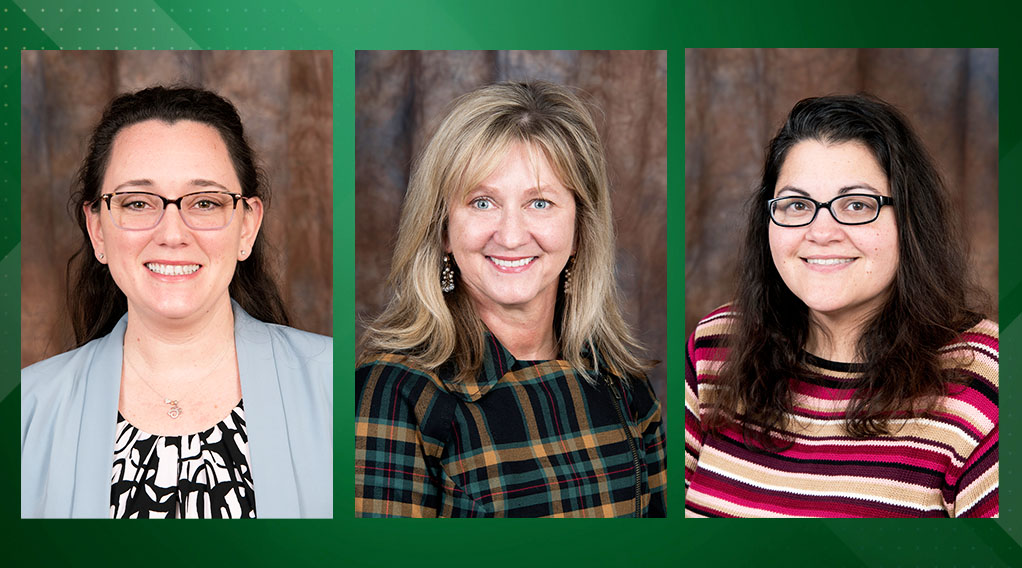 The College of Southern Maryland (CSM) Foundation announces that Danielle Conrow, Julie Lemmon and Teresa "Tiki" Shasho have joined the board as its newest directors. The new directors were voted in at the board's Jan. 24 meeting.
"The CSM Foundation continues to grow, and the new additions will help to make us stronger and more effective in our advocacy for students," said CSM Foundation Executive Director Chelsea Clute. "We are excited for a fun and busy year ahead with members old and new."
Conrow is currently a team leader at Rodgers Consulting, where she spearheads project management, engineering, design, and permitting services for a variety of land development projects in Charles County. Previously, she worked for the Calvert County Government Department of Public Works and with several other private companies.
"I am passionate about providing opportunities and guidance to anyone seeking to better their circumstances with continuing education, certifications, and industry-ready training," said Conrow. "I am over-the-moon excited to join the foundation so that I can share the variety of the wonderful programs and available assistance that CSM has to offer to students today, and to give as many people as we can opportunity to thrive right here in Southern Maryland.
"I worked full time and attended classes at CSM for my associate degree in Engineering as I was able to attend and fund through their flexible payment plan," she continued. "Today I am a licensed professional engineer with more than 20 years of experience and a successful career that I am very proud of, thanks to having CSM right here at home."
Conrow finished her associate degree at Anne Arundel Community College and now lives in Prince Frederick. She also serves on the Charles County Chamber of Commerce Board of Directors and received the CRAM County Engineer of the Year Award in 2020.
Lemmon is a strategic communications specialist with experience in both the civilian and military sectors. She is the director of operations of Next Generation Air Dominance at NAVAIR and owns Pyramid Consulting LLC, which assists small businesses with communication strategy and coaching.
"I'm honored to be a part of this exceptional group," she said. "I have been associated with CSM since it was Charles County Community College, and I was adjunct faculty and continued teaching when it transitioned to CSM. The students have always been so important to me, and I'm grateful for the opportunity to assist them as a board member."
Lemmon received her bachelor's degree from the University of Illinois and her MBA from the University of Delaware, and now resides in California, Maryland.
Tiki Shasho, CSM '14, is a commercial sales agent at Shasho Commercial Real Estate who previously worked for several local banks in a variety of roles.
"I am excited to join the CSM Foundation, because I enjoy giving back to the community," she said. "I am looking forward to assisting wherever help is needed with fundraising ideas and organization of events."
The White Plains resident volunteers for multiple educational and arts organizations such as Rocktoberfest, Destination Imagination, VEX Robotics, PTO and MESA. She is a graduate of CSM and St. Mary's College of Maryland.
In other board business
Charles County businessman and long-standing CSM advocate Harry Shasho was named a board emeritus, and Trustee Jose M. Gonzalez was appointed as the new liaison from CSM's Board of Trustees to the CSM Foundation Board of Directors.
As director emeritus, Harry Shasho will continue to attend meetings and participate in events but is no longer a voting member of the board. The honor is given to directors who served for at least two full terms, and who have made a significant contribution to the college and served as an officer or chaired a committee for the board. Harry Shasho, who is the father of new board member Teresa Shasho, also recently received an honorary degree at CSM's 2023 Winter Commencement.
"I am very proud to always be part of this college," Shasho said when he accepted the honorary degree. "I've watched CSM grow and I'm always here for whatever you need."
Gonzalez was appointed to the Board of Trustees by Gov. Larry Hogan in 2020. He has a distinguished record of public service that includes more than 30 years of experience in weapon systems development and acquisition for the U.S. Department of Defense. Gonzalez received a bachelor's degree in Electrical Engineering from the University of Maryland; a master's degree in Public Administration from Virginia Polytechnic Institute and State University and is a graduate of the Leadership for a Democratic Society program from the Federal Executive Institute. He lives in La Plata. Gonzalez is a 30-year resident of Charles County, where he lives in La Plata with his wife Margie.
The CSM Foundation, a nonprofit, 501(c)3 charitable organization established in 1970, helps increase access to higher education at CSM through scholarship funding and assures the excellence of that education by raising and managing funds for college projects and objectives – including workforce development in Southern Maryland. The CSM Foundation is comprised of a tri-county, all-volunteer board of directors.
CMS Page Edit