"I feel I am a better communicator because of her."
"She got to know us and she helped us get to know each other."
"I wish I had a professor like her my first go-round of college!"
"An amazing teacher who really cares for students."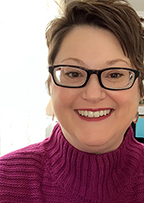 These are just some examples of what students have had to say about Gina Johnson, adjunct professor of communication at the College of Southern Maryland (CSM) and the recipient of this year's CSM Adjunct Faculty Excellence Award. The honor, presented during CSM's Winter Commencement Jan. 13, 2023, is given yearly to an adjunct faculty member for outstanding achievement in classroom teaching, contributions both to their department and the college, professional development and community commitment. 
Over the past 11 years, Johnson has honed a student-centric approach to teaching communications that leaves her students with not only a deep understanding of the material, but the experience of a classroom where they are accepted and understood.
"What made Gina's submission rise to the top is her obvious commitment to student learning through her classroom teaching," said CSM Faculty Excellence Committee Chair and Professor Dr. Melanie Osterhouse.  "First, Gina makes sure that students have the foundational knowledge and fills the gaps when they don't. She works to create a learning community out of her classroom to provide that collaborative environment.  She continually stays abreast of evolving teaching methods and has started applying real-world skills to her class as a result of her life-long learning."
"During my first semester of teaching, a student said 'this is the only class where we are allowed to talk,' and that stayed with me," Johnson said. "I strive to create an inclusive classroom that gives students a safe space to be themselves and be accepted. Communicating can be messy, and I want my students to feel free to share their stories without fear of being judged."
Johnson has taught every type of communication class at every CSM including Introductory Principles of Communication (which she has taught more than 60 times) to the more advanced courses Communication Theory and Intercultural Communication. 
Johnson said that her favorite moments in the classroom are when she sees students put what they're learning into practice – intentionally choosing a conflict style while arguing over who to save from a hypothetical hostage situation in one classroom activity, or pantomiming emotions to practice their nonverbal communication in another. These activities aren't just fun, she shared. She designs her classes to spark critical questions, engage even the most reticent students, and show that communication touches every part of our lives.
"I don't want my students to just learn the material, I want them to use it," Johnson added. "For me, success is when I can improve the quality of their life by improving the quality of their communication." She also noted that she teaches students who will be following a variety of career paths, but effective communication is a tool that they can use whatever their future holds.
Johnson said she savors the diversity in her classrooms, since students arrive from a variety of cultures and backgrounds and bring their own unique perspectives to the class experience. She said that one of her recent classes included both a 14-year-old, dual-enrolled high school student and a student 70 years young – she said she relished watching the two bridge their divides.
Beyond the classroom, Johnson provides the same unconditional support to her colleagues, freely sharing her materials and hard-won knowledge in order to pay forward the support she received from her own mentor, Dr. Victoria Clements, when she started teaching at CSM in 2011.
"One of my core values is service, whether that means service to students or colleagues or the entire CSM community," she said. In addition to her teaching, Johnson serves on the Faculty Development Committee and has presented on timely topics during First Friday, Provocations Series, Future Educators Conference, and various pre-semester workshops. Professionally, she remains current by attending conferences, presenting at AFACCT, earning ACUE Certification and a graduate certificate in Instructional Design. She completed her Master of Arts in Contemporary Communication in Fall 2019.
"Gina's student-centered classroom approach includes a variety of interactive, hands-on activities that allow students to learn material in an engaging and supportive environment," said Dean of CSM's School of Liberal Arts David Robinson. "We are grateful for Gina's excellence in the classroom, and her service to the division and to the college."
Johnson said that she was honored to receive recognition for doing something she truly loves.
"I've always felt at home teaching; I feel most like myself in front of a classroom," Johnson said. "My students amaze me and teach my every day."
The CSM Adjunct Professor Excellence Award is generously funded each year by Educational Systems Federal Credit Union.
CMS Page Edit