"I'm really looking forward to using the machines that are priced outside of my budget, and connecting with fellow creatives in the area."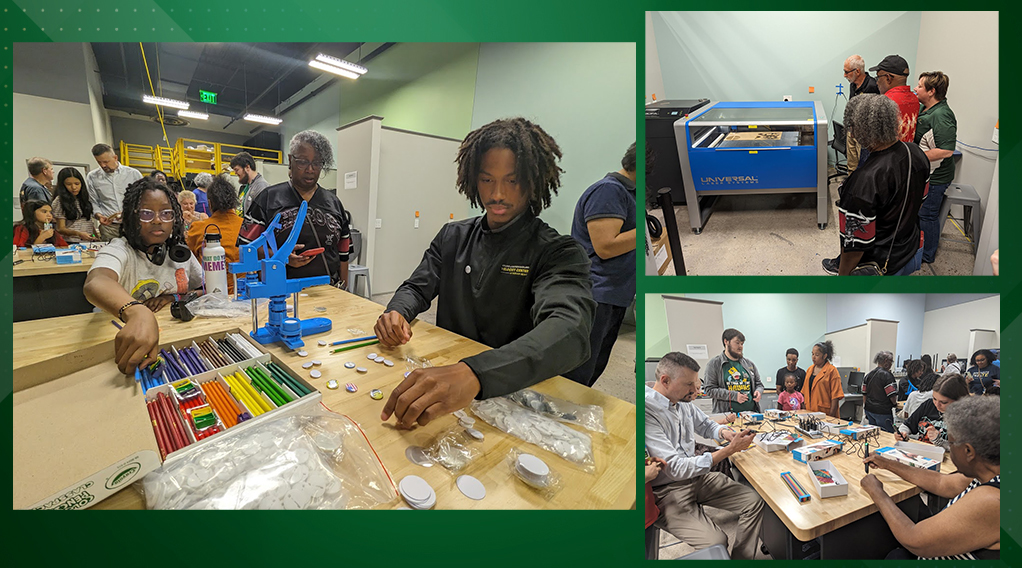 The College of Southern Maryland (CSM) invites innovators and inventors and all creative types to bring their creations to life at the Makerspace at its Velocity Center in Indian Head, which is now offering memberships to the public.
The Makerspace at the CSM Velocity Center is a 1,984 square foot collaborative community workspace for making, learning, exploring, and sharing. It is equipped with a variety of maker equipment including 3D printers/scanners, laser cutters, soldering irons and other additive and subtractive machines for manufacturing. It also includes hardware and software for cyber/gaming, CAD modeling, simulation, app development, robotics, and prototyping. This equipment – which the public would not otherwise have access to – could help create custom printed tee-shirts, coasters, engraved trinkets, etched metal business cards, or even a 3-D printed chess set – to name a few.
Anyone over age 16 can become a member by taking an online membership class, TCH-5040, through CSM.  For a limited time, this class, which includes the first month of membership, is $10.  This offer is available on a first come, first served basis and can be accessed by contacting the Makerspace.
Monthly memberships are free for CSM students and staff and available to the general public at a variety of levels starting at $40 a month. Membership provides you access to the spaces, computers, online resources, tools, and equipment, including 3D printers/scanners, a CNC router, laser cutters, electronic equipment, and other additive and subtractive machines for making. Membership is not required to take a class or participate in public events at the space.
Local creatives recently got a chance to explore some of the resources, tools and equipment at the Makerspace at an open house event over the summer. The inventive energy was palpable as children doodled with 3-D printer pens and created colorful buttons, hobbyists asked technical questions about the 3-D printers, and staff demonstrated some of their planned continuing education workshops, such as puzzle making with the laser cutter.
"I was extremely pleased with the community turn out for the open house," said Lesley Quattlebaum, executive director of the Velocity Center. "The Open House was planned to create more awareness about the Makerspace, the equipment inside and membership opportunities. There was a lot of excitement from attendees."
Quattlebaum said that access to professional grade equipment is one of the highlights of the space.
"Hundreds of thousands of dollars have been invested into the equipment and software purchases for the Makerspace," she said. "Members will be able to use the Makerspace to not only ideate and create personal projects, but support entrepreneurial activities, as well as engage in continuous learning and workforce development opportunities."
Local mom Mary Goddard agreed, sharing that she is looking forward to joining the Makerspace to enhance her son's homeschool curriculum.
"I'm really looking forward to using the machines that are priced outside of my budget, and connecting with fellow creatives in the area," Goddard said. Her daughter, Keirstin Perez, who describes herself as "crafty" is a current CSM student studying criminal justice and said that she is excited to explore how she can use the Makerspace for her own projects.
CSM Alumna Sherye Thomas '20, who attended the open house, said that she is excited to see a resource in the area that entrepreneurs could use to develop their ideas.
"It creates competitions, cuts costs, and you can do what you need to do," she said.
To stay up to date with information about the makerspace, including operational hours and procedures, visit https://www.csmd.edu/about/locations/velocity-center/makerspace-page.html.
The Velocity Center is approximately 13,000 square feet located outside of the Naval Surface Warfare Center, Indian Head Division (NSWC IHD). The Navy utilizes the Velocity Center for conferences, meetings, and showcases, and to hold a multitude of professional development activities and events. Navy scientists and industry leaders can interact with students in tech transfer courses and have a place to tinker and conduct unclassified research. The community can take advantage of the makerspace in the Velocity Center as well as workforce and professional development courses such as Computer Aided Design, Cyber Security, Drones/Small Unmanned Aircraft Systems, Government Procurement, Social Entrepreneurship, and Tech Transfer Entrepreneurship.
To learn more about the Velocity Center, visit https://www.csmd.edu/about/locations/velocity-center/index.html.
CMS Page Edit