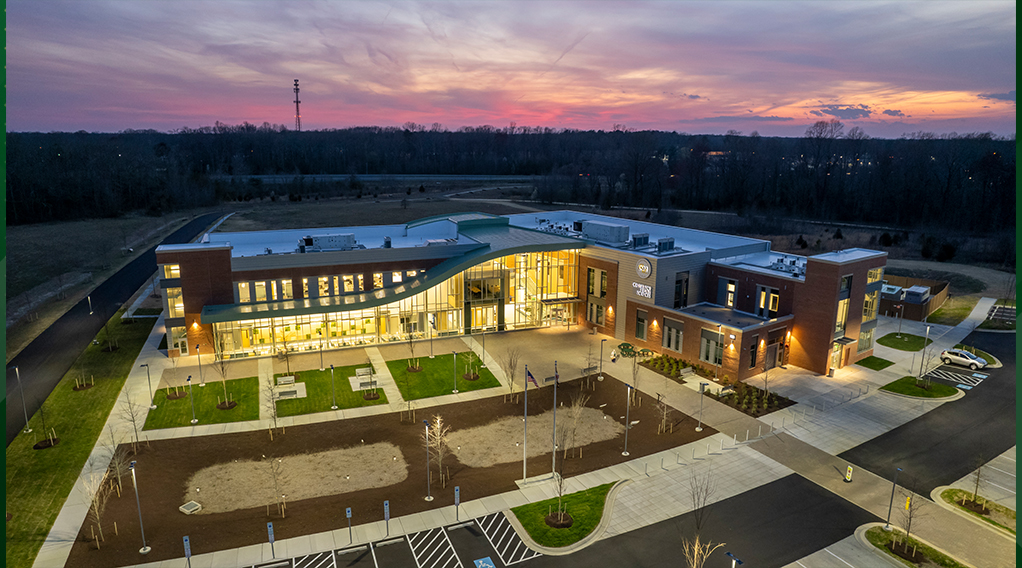 The College of Southern Maryland (CSM) Center for Health Sciences (CHS) at the Regional Hughesville Campus recently received several significant recognitions. The building was certified as meeting LEED Silver standards by Green Business Certification, Inc (GBCI); it was selected as the winner of a national award for educational facilities by the Construction Management Association of America; and it was chosen by the Associated Builders and Contractors Chesapeake Shores Chapter for a 2023 Excellence in Construction Award.  
"We are extraordinarily proud to have our new building recognized with these distinctions," said CSM Vice President of Operations and Planning Dr. Bill Comey. "We are grateful for the forward-thinking design provided by Grimm and Parker Architecture as well as the exceptional construction work completed by Scheibel Construction – both of which helped to make CSM's vision for this state-of-the-art facility become reality.
"This is the college's fourth building to be certified as Gold or Silver under the Leadership in Energy and Environmental Design (LEED) green building rating system," he continued. "To have a fourth building certified as meeting LEED standards – and to earn these other distinguished industry awards – demonstrates to the community of whom we are so proud to serve, that the College of Southern Maryland is more than just committed to reducing our impact on the environment. We are also committed to investing in our students, our employees, our community, and our local business partnerships to create social and economic mobility in Southern Maryland."
The Center for Health Sciences is located at 6105 Foster Place, Hughesville, Md. It serves as a central, convenient location for the college's health programs and instruction. It is approximately 50,000 square feet and features specialized health sciences laboratories for CSM's programs in nursing, emergency medical services, rehabilitation, wellness and fitness, pharmacy technician, medical assisting, health information management and medical coding, and medical laboratory technology. The center also includes a clinical simulation center, collaborative learning spaces, classrooms, a computer lab, faculty and staff offices, a student success suite, and a large multipurpose meeting room. To learn more about CSM's healthcare programs, visit https://www.csmd.edu/programs-courses/pathways/health/index.html.
To view photographs of the Center for Health Sciences, visit https://csmphoto.zenfolio.com/p76632601.
About GBCI:
GBCI is the premier organization for independently recognizing excellence in green business industry performance and practices globally.
CMS Page Edit