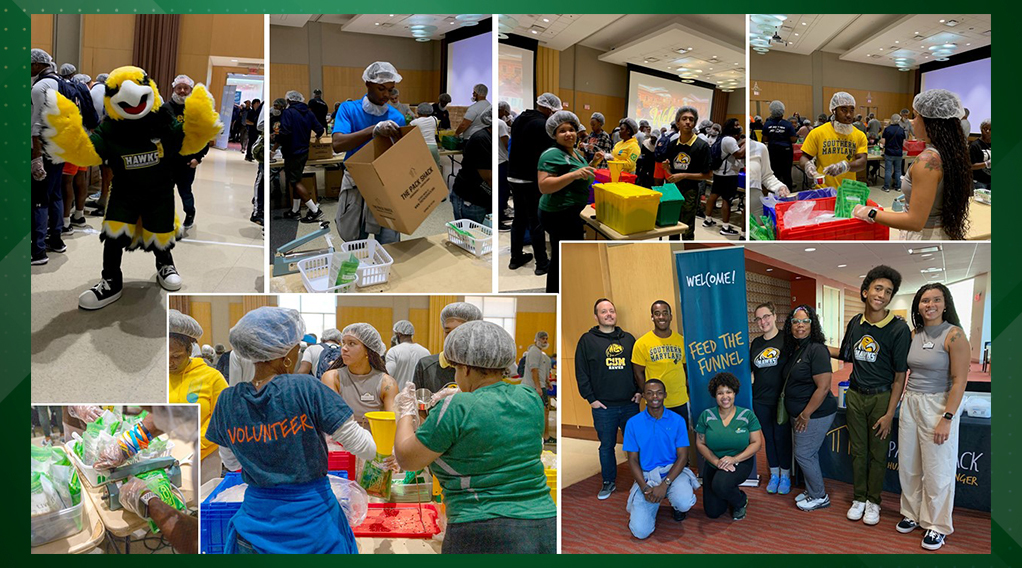 The College of Southern Maryland (CSM) faculty, staff, and students recently joined more than 150 other volunteers from Morgan State University (MSU) and Coppin State University to assemble more than 50,000 healthy nonperishable meals to be donated to local organizations and university partners.
The volunteer service event was organized by Morgan's Food Resource Center (FRC) in partnership with the nonprofit 9/11 Day, The Pack Shack, and the federal agency, AmeriCorps, and was held in observance of the Sept. 11 National Day of Service and Remembrance and National Hunger Action Month.
The CSM team travelled to MSU to sort and package food, dance, and return to CSM's campuses with 2,000 free meals to stock the CSM Hawk Pantries found at every CSM campus.
To learn more about CSM Hawk Pantries, visit https://www.csmd.edu/student-services/health-wellness/hawkfeeder/index.html.
To learn more about MSU's Feed the Funnell event, visit MSU Food Resource Center to Donate the 'Feed the Funnel for 9/11 Day' Packaged Meals to Local Organizations and University Partners.
CMS Page Edit