Beep! Beep! What eliminates the carbon dioxide equivalent of 42 trees, and can be found zipping around the College of Southern Maryland's (CSM) La Plata and Regional Hughesville campuses?
It's the college's new Polaris GEM utility vehicles – a sign of things to come as CSM begins transitioning to a smaller, less gas-reliant fleet of vehicles. This next step in environmental sustainability will reduce the college's carbon footprint, improves on-campus safety and decreases operating costs.
"CSM is committed to sustainability," said Vice President Operations and Planning Dr. Bill Comey in a presentation to CSM's Board of Trustees. "We continually strive to improve our environmental performance by initiating projects and activities that further reduce our impact on the environment, and an electric and hybrid fleet makes a strong statement regarding the college's commitment to environmental sustainability,"
Ronald Toward, executive director of Facilities Management, said that the goal of transitioning to an electric fleet has been in discussion for years, and CSM is among the first community colleges in Maryland to take this step. Arriving close on the heels of the Polaris vehicles will be two E Transit vans and a pair of Ford Escape hybrid trucks that will be used for bigger jobs around campus.
Last year, CSM entered into an agreement with SMECO to install electronic vehicle charging stations at all campuses to prepare for the transition and in coming years, CSM will phase out the current gas-powered fleet and replace it with one comprised mostly of the small, electric utility vehicles, with a few full-sized vehicles for larger jobs.
The benefits to CSM go beyond a greener campus. By utilizing a lease and maintenance program through Enterprise, the college will be able to transition to a transportation plan with a more predictable and overall lower cost of ownership. The smaller Polaris vehicles – which have a maximum speed of 25 mph – and can travel on roads, sidewalks, and even turf, are safer for pedestrians and can reach parts of campus that are inaccessible to larger trucks.
"We're not just talking about gas; we're also talking about things like insurance and other administrative costs because these vehicles don't require the same licensing as full-size vehicles." said Toward.  He said that the transition will also represent a culture shift among the staff, with fewer shared vehicles replacing the current larger fleet, which will further reduce the campus's environmental footprint.
"There's no need for almost everybody to have a full-sized vehicle, especially when the majority of the trips are on campus," he said.
CSM has long been at the forefront of environmental sustainability among Maryland's community colleges. Among other initiatives, CSM is the first Bird Campus in Maryland, as well as a Bee Campus and a Butterflies for a Better Bay participant. The college also has four LEED-certified buildings; has saved more than 90,000 water bottles from the landfill thanks to water filling stations around campus; and participates in "Code Green" Fridays to reduce energy use during the summer months. This past January, several members of the college's Facilities Management team earned Green Seal Certified Eco-Building Hygienists certificates.
CSM has also been busy sparking conversations campus-wide about sustainable practices, including a "Winter Sowing" class focused on native plants in February, a Climate Change Innovation Hackathon at the Velocity Center in March and a native plant giveaway hosted by the Environmental Sustainability Committee during Spring Fling in April.
The new vehicles will be a highly visible sign of CSM's commitment to environmental sustainability but are far from the only step that CSM is taking to reduce the carbon footprint.  Toward said that Facilities Management is also looking into completing routine inspections via drone rather than more energy-intensive equipment and has invested in preventative maintenance plans that reduce energy use over time. Improvements are also underway at the Prince Frederick Campus Garden to create an outdoor classroom and improve accessibility to the garden.
"We're just getting started," he said.
For more information about environmental sustainability at CSM, visit https://www.csmd.edu/about/environmental-sustainability/index.html.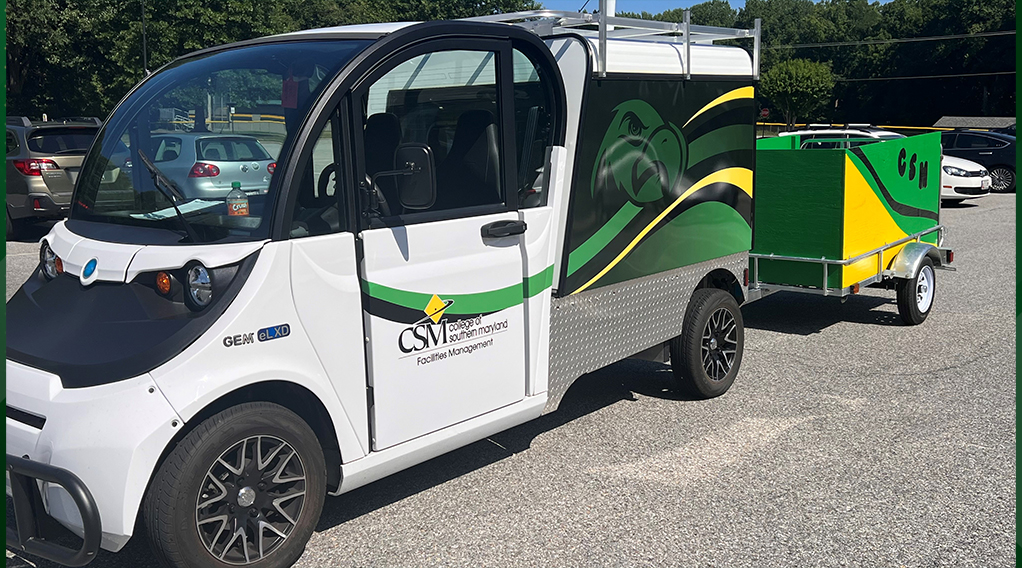 CMS Page Edit