The College of Southern Maryland's (CSM) 49 nursing graduates from the Spring 2023 commencement celebrated their achievements at the La Plata Campus with a time-honored pinning ceremony that allows CSM faculty to welcome their students as peers and colleagues in the field of nursing. 
The graduating class chose a quote from Kobe Bryant as the theme for the event: "Great things come from hard work and perseverance. No excuses."
Linda Goodman, professor of nursing, served as the mistress of ceremonies and welcomed attendees to the celebration of students' courage and hard work. 
"This event provides an opportunity for us, your faculty, to recognize you and welcome you as our peers and colleagues in nursing," she said. "Thank you to those in attendance for helping us to recognize the efforts of these individuals in this celebration of their accomplishments." 
Before the students were called to the stage, Linda Hamel, associate professor of nursing, explained the significance of the pin each nurse would receive. She said that the modern pinning ceremony dates to the 1860s, when Florence Nightingale was awarded the Red Cross of St. George in recognition for her tireless service to the injured during the Crimean War. To share the honor, Nightingale in turn presented a medal of excellence to her brightest graduates and by 1916, the practice of pinning new graduates was standard throughout the United States. 
Students received their pins from faculty pinners Lauren Guy, Dawn Leukhardt, Rose Miller, Kathleen Parsons, Annette Ragland, and Deborah Rutledge. Dr. Eden Kan presented the candidates. 
'I will forever be in your corner'
The featured speaker for the event was CSM alumna Jeanne Hill '01, associate professor of nursing. She spoke about her memories of her own nurse pinning ceremony at CSM 22 years ago. 
"I remember being so excited, proud and scared to death at the same time," she said. "I tell you this because as I sat there and listened to the speakers, I remember being in awe of the nurses they were. The experience, the knowledge, the professionalism. I want you to hear this story because I want you to know that one day, you will be built of pieces of every nurse you ever looked up to. You see, there are people here today who built me as a new nurse." 
She reflected on the theme for the year's event and encouraged the students to keep their focus on what is best for their patients. 
"Your perseverance that brought you here is what will carry you through those hard times," she added. "I promise you that at the end of every single day, even the hard ones, there is going to be at least one patient that is grateful that you showed up to work that day." 
"I have never been more proud to call a group of people my newest colleagues in this busy, demanding, exciting, often frightening, sometimes frustrating, but ultimately deeply rewarding profession," she continued. "Believe in yourselves and your ability to make a difference and create change. I will forever be in your corner, cheering you on." 
'We have the power to change the world' 
Graduating student Ella Videga, who also received the department's "Achievement in Nursing" award, was selected by her classmates to speak on behalf of the class.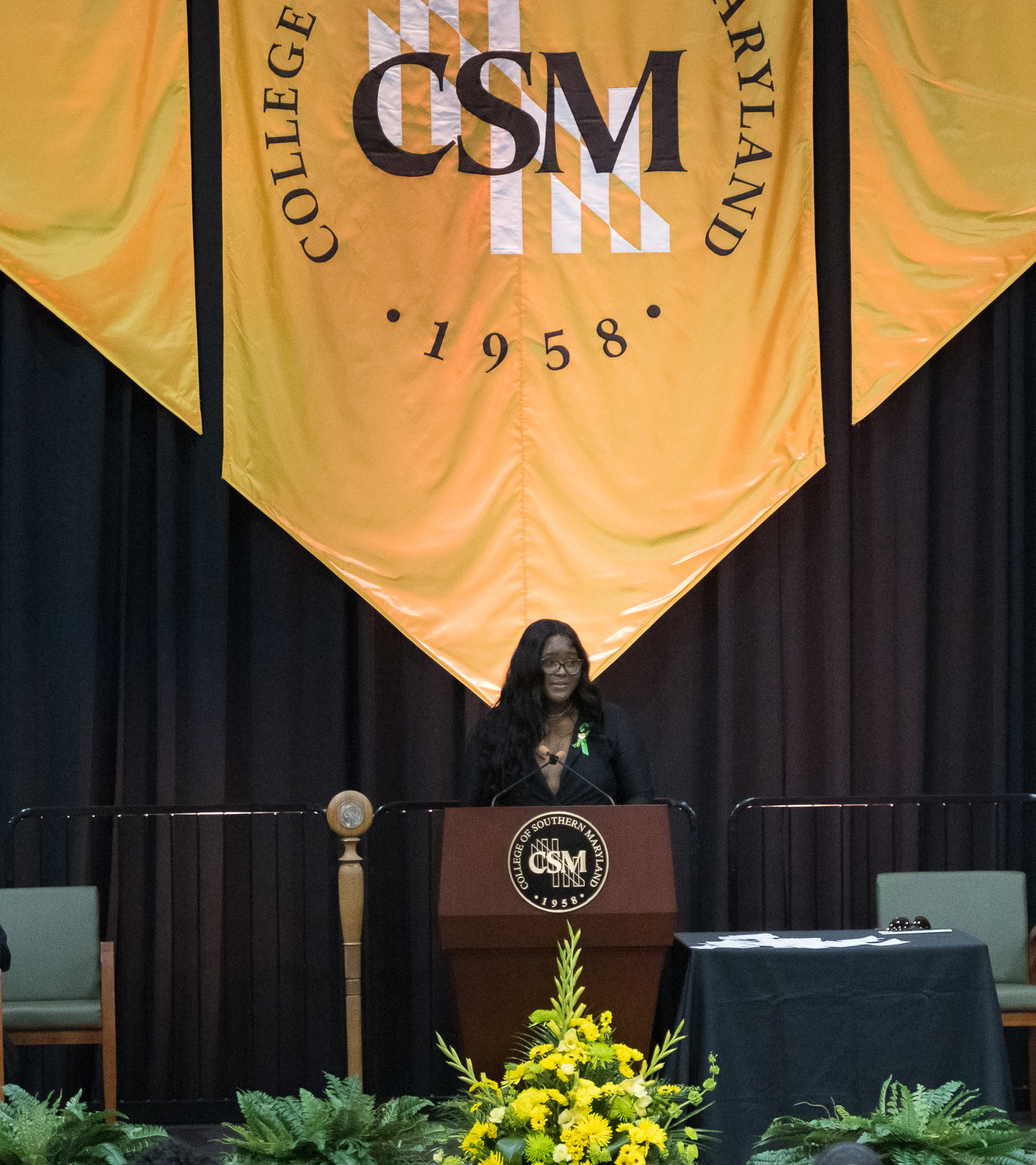 She spoke of the bonds that developed between the nursing students, and the support that the faculty gave them as they overcame obstacles to achieve their goal. 
"I realized that I wasn't simply a part of a nursing cohort, I was a part of family of beautiful men and women, committed to fulfilling their passion and desires to make a difference in nursing through their empathy, kindness, integrity, and overall people who I could truly count on," she said. 
She encouraged her classmates to continue to learn and grow as they enter their new profession. 
"Hold on to the passion, dedication, and resilience that brought you to this point," urged Videga, who is pictured right. "Remember that you are not just healthcare providers, but also advocates, educators, and innovators. As we embark on this next chapter of our careers, let us continue to strive for excellence, to uplift and support one another, and to make a positive impact on the lives of our patients and communities. We have the power to change the world, one patient at a time." 
'Shine the light and beauty of this great profession' 
Closing remarks were provided by Robin Young, professor of nursing, who echoed the theme of perseverance.
"Trust there will be days as a nurse where you will face challenges but approach each one with a positive attitude and energy," she said. "Some outcomes may or may not yield favorable outcomes but knowing you gave it your best effort and perseverance will keep you going and fulfilled throughout your career ... Now, go out into the world and continue to shine the light and beauty of this great profession."
Students who proudly received their pins included:
Susana Adhikari 
Sallie Baldus 
Larissa Battle 
Casey Alexander Becraft 
Jessica A. Brack  
Lindsay Bradburn 
Cayla Bromwell 
Genesis Burch 
Kathleen B. Burch 
Hannah Callander 
Bernice Cao 
Stacey R. Chayka 
Samantha G. Clark 
Christy M. Collins 
Valerie Corbin 
Alexandra Delcher 
Madisyn J. Dull 
Courtney M. Edelen 
Gabrielle B. Fleming 
Yuko K. Garrett 
Jessica Starr Gavin 
Becca Pearl Hall 
Madison Harris*
Alyssa Harry 
Regan Kate Healey 
Janay M. Hicks 
Mya Hollenczer 
Jenna Anne Kidd 
Francois David Mallari 
Angelique Martinez 
Sara McCullough 
Taylor Mosterd 
Candace Neeb 
Nyesha Denai Newby 
Brianna Danielle Oberg 
Shirley C. Onyeukwu 
Breana Pearsall 
Jennifer C. Rhodes 
Katlyn Nicole Riley 
Isabelle Dominique V. Sanchez 
Mary-Katelynn R. Smith 
Michele Smith 
Jill Swanson 
Susan Thiongo 
Ella J. Videgla** 
Ada Weems 
April R. Wheaton 
Marie A. Williams 
Courtney L. Wilson 
* "Academic Achievement in Nursing" award
** "Achievement in Nursing" award
To view photographs from the pinning ceremony, visit: https://csmphoto.zenfolio.com/nursing23
CMS Page Edit