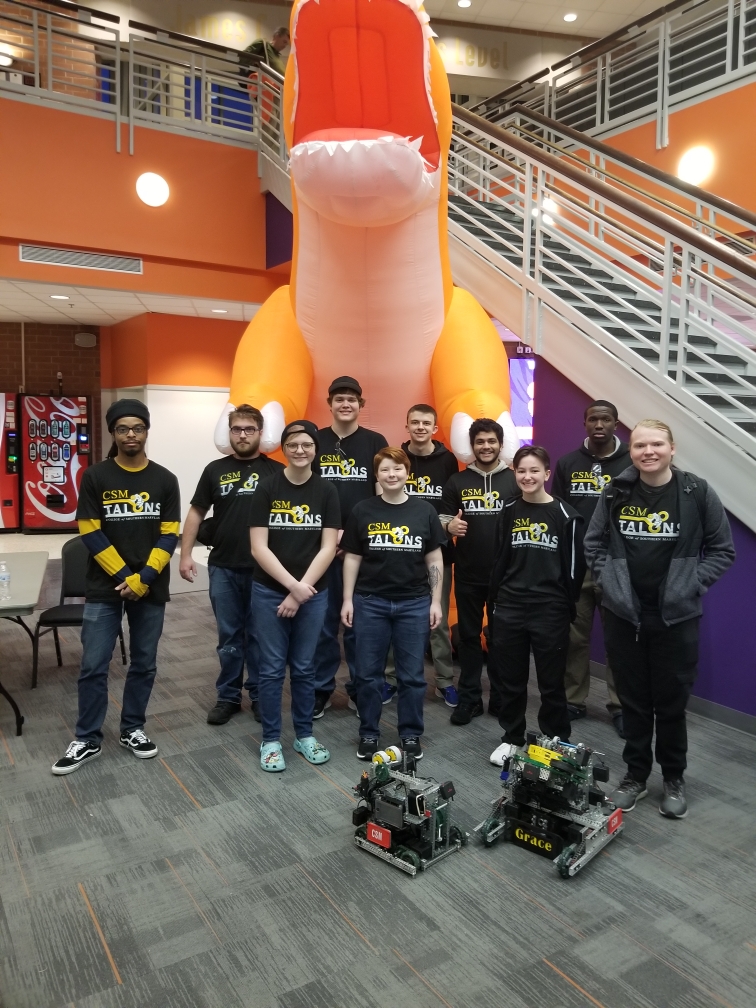 The College of Southern Maryland (CSM) competitive robotics team – the Talons – will compete at one of the largest Vex U events in the world when they head to a 2023 West Virginia Vex U Qualifier in March.  
The Talons, who are widely known for their continued wins at the World Vex Competitions, are coming off strong performances during a competition earlier this month in South Carolina. 
Members of the team just returned from Clemson University where at the VexU Tigertown Throwdown, the Talons ranked first going into the single elimination rounds. CSM was narrowly bested (84-78) by EZPZ, the team from the University of South Carolina during the quarterfinals. 
Last year, the Talons won their ticket to the Worlds VexU College Competition by winning a prestigious Excellence award.  At Worlds, they competed against dozens of university teams from around the globe to earn the title of 10th best team in the technology category and 11th best in the skills category.  
CSM Provost and Division of Learning Vice President Dr. Rodney Redmond joined many in extending congratulations the Talons team upon their return from Southern Carolina. "Way to go Talons," he shared. "You are tops!"  
"In addition to the many hours in the robotics lab designing and practicing for the competitions, the members of the team have also been active this year in supporting up-and-coming students in the community," explained Associate Dean Dr. Stephanie McCaslin. "They regularly volunteer as judges with the CCPS robotics teams and have sponsored collaborative sessions with scouting groups and Purple Boots robotics teams."  
The VEX U competitions are sponsored by the Robotics Education and Competition (REC) Foundation, whose mission is to increase student interest and involvement in Science, Technology, Engineering and Mathematics (STEM). Participating teams build robots to compete in a series of challenges through VEX U that involve maneuvering game elements and completing tasks. The REC Foundation works in close partnership with VEX Robotics, Inc., creator of the robotics kits and educational tools used by students, educators and mentors. Each year, the two organizations unveil new engineering game challenges for the VEX IQ Challenge and the VEX Robotics Competition that challenges college students to design robots to score the most points against their opponents. The current challenge, "Spin up," requires innovation, collaboration, and tech-savvy, as teams vie to collect discs, shoot them into goals, own rollers, and cover field tiles. 
Members of the CSM Talons Robotics Team are:  
Bailey Burroughs  
Jonathan Gross 
Brian Gross 
Ryan Goldsmith 
Glenn Teeguarden 
Eli Gerstman 
Hassan Turay 
Michael Douglas 
Cameron Vinson 
Ren Fletcher 
Brianna Rourke 
Ebin Sebastian 
CSM Talons faculty coaches include: 
Ann Stine 
Brian Warnecke 
Jim Cleary 
Elizabeth Rourke 
CMS Page Edit