On my graduation day my son told everyone that it was OUR graduation day. It truly was OUR day!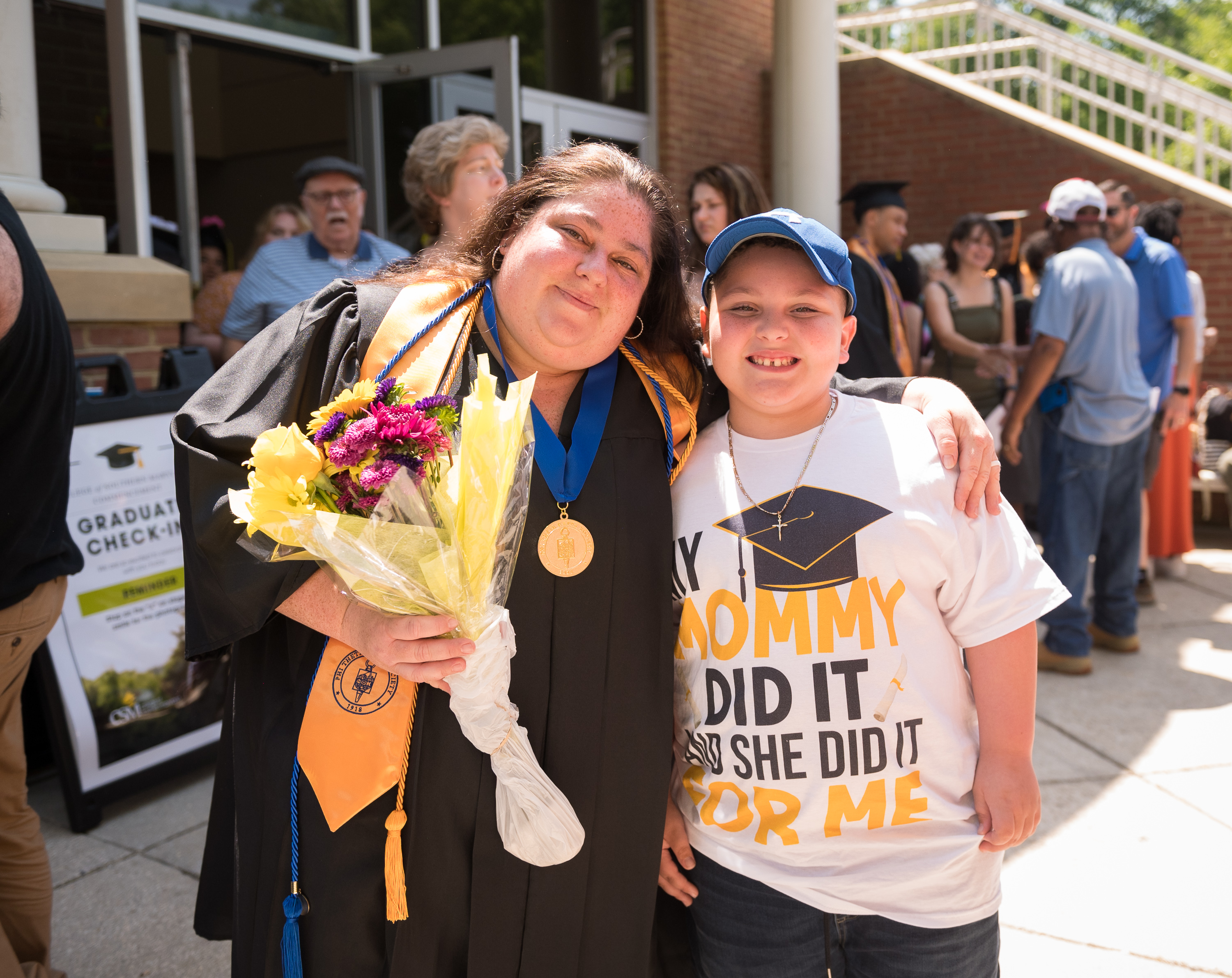 When the COVID–19 pandemic forced everyone to stay home, and schools to move online, stay-at-home mom Drue Bowman, of Broomes Island, decided to act, pursue a dream, and set an example for her son. She registered for as many online courses at the College of Southern Maryland (CSM) as her busy schedule would allow, and she got serious about earning her two-year degree.
On May 12, Bowman, 37, walked across the commencement stage to receive not one, but dual associate degrees, with honors – as her son Mikey cheered her on from the audience wearing a shirt that proudly displayed "My Mommy DID IT, and she DID IT FOR ME."
"My family gave me the strength I needed when I had long days and short nights juggling everything," Bowman said. "Even when I wasn't sure I could do it, my family never doubted me or let me give up. They always reminded me that [I was] working toward a goal and to keep that in mind. On my graduation day my son told everyone that it was OUR graduation day. It truly was OUR day!"
Bowman received an Arts and Sciences degree as well as a degree in Criminal Justice all the while managing some personal health issues; coaching her son's baseball team alongside her husband, Mike; working as a substitute teacher; and volunteering for the PTA.
"I did give up being a volunteer EMT," she shared, regretfully. "With my health being what it is, it would have been too much of a risk." 
Bowman said that the virtual classes offered by CSM allowed her to complete her degree while managing her Crohn's disease, which may have otherwise forced her to leave class or even have to stay home. With options including face-to-face, web-based, real-time technology, hybrid and flex courses, she said CSM makes it easier for students to create a schedule that works for them.
That flexibility was what ultimately allowed Bowman to fit her studies into her busy life. In the early days of the pandemic, she would join remote classes from her kitchen table while at her side, her son attended Zoom sessions with his preschool class. While attending their schools together, they'd cheer each other on as they logged into their school platforms to check their grades. She said that her son, now age 6, remains her biggest advocate.
"It was really important for me to show him that even with all the things in my life, I was able to go back to school," she said. "I tell him that you're never done with learning."
Bowman admitted that at times she had trouble returning to school as an adult, and that the classroom has changed since the last time she was a student. She credits CSM for preparing her and helping her through the tutoring center, which helped her manage her coursework and 'remember how to write an essay.'   
Bowman also received the support of student groups such as the Criminal Justice Club, where she was elected president, and professors like John Delabrer, who made learning fun and engaging for her. Her successes in the classroom even led to an invitation for her to join Phi Theta Kappa, the international college honor society.
"Everyone at CSM was just so willing to help, and I couldn't have done it without them" she said. "I'd tell any other students like me to breathe, study, and if you need help, they'll [CSM] be there for you."
CSM Foundation is here to help
To finance her education, Bowman received the help of two scholarships.
"If it wasn't for the scholarships I received, I wouldn't have been able to return to school at all," she said. "We're a one-income household, and I know that I would have saved any extra money for my son instead of using it for school. The scholarships I received made it so that I didn't have to make that choice."
Bowman was the recipient of the Crohn's Glitter & Girls Scholarship, which is available to CSM students whose lives are affected by the illness.
"When I attended college, I had so many health challenges and I had nowhere to turn, so I often felt frustrated and embarrassed," said CSM Alumna Jehnell Linkins '83, the pre-engineering program coordinator at CSM, who established this scholarship through her nonprofit organization Crohn's Glitter and Girls, Inc. "This scholarship helps to remove the stigma of the disease, and provide an opportunity for those with Crohn's to have some of the burden lifted."
Bowman was also twice the recipient of the John and Ginny Walters Endowed Scholarship, which is available to CSM students with financial hardships who want to pursue a degree in criminal justice or teaching. The scholarship is named for John and Ginny Walters, who in their retirement from the FBI and Peace Corps, respectively, traveled the world to teach law enforcement officials in impoverished countries about their rights within society, and their responsibilities to society.
"Our whole family is excited for Drue and proud of her enormous accomplishments," said CSM Director of Communications and PIO Angela Walters Small, whose father is John Walters. Small shared that she didn't have the opportunity to meet with Bowman and her family face-to-face until graduation day.
"I couldn't wait to snap a photo, and text it to Dad and Ginny immediately after graduation," she said. "My dad is about to turn 95 and it made his and Ginny's day to finally 'see' Drue in all her regalia, with her degrees, and that beautiful big smile!"
Bowman will be attending UMGC this fall to complete her bachelor's degree as the next step toward her goal of becoming a Juvenile Probation Officer, and has her sights set on an eventual master's degree.
CMS Page Edit