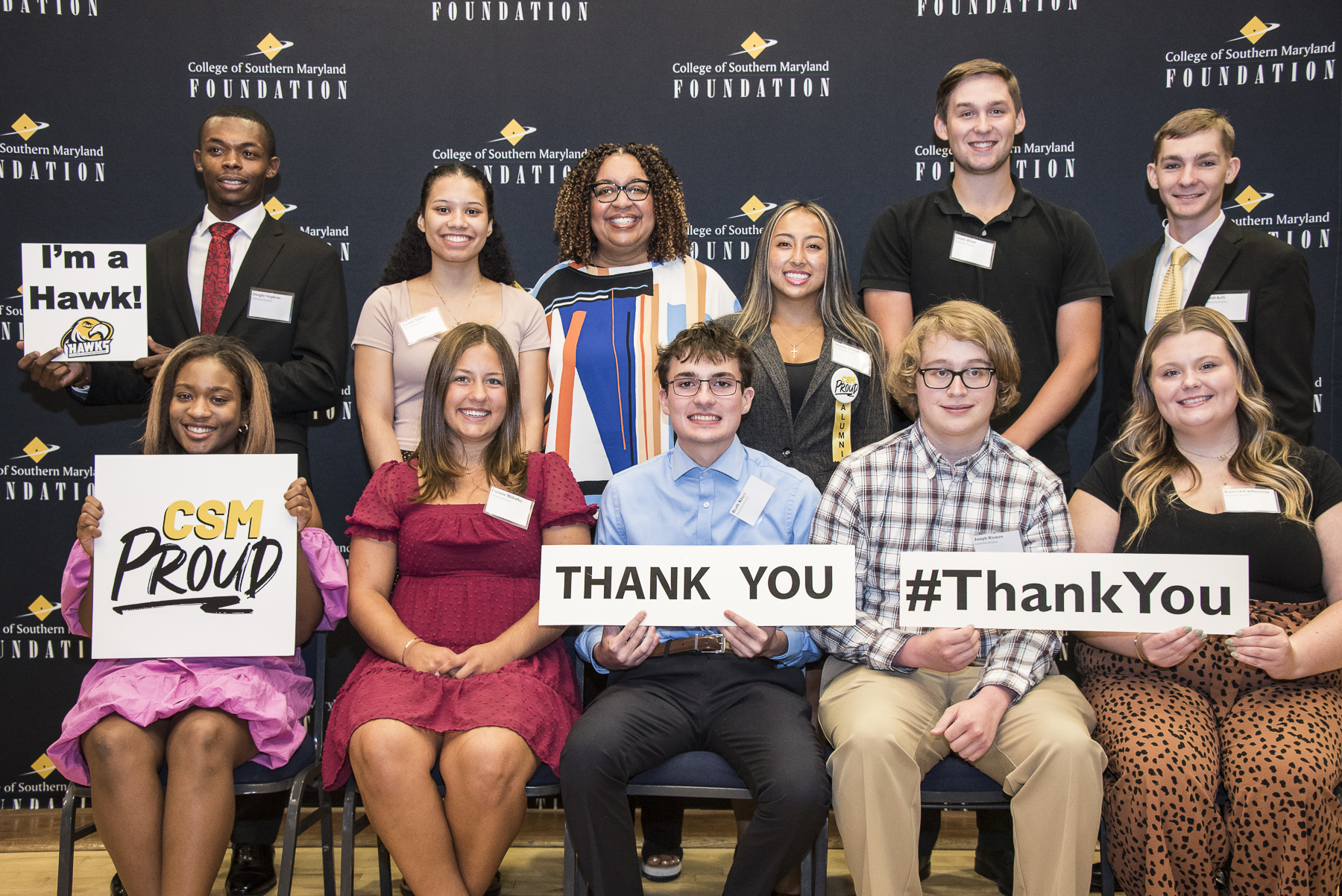 Fifteen students, their families, members of the College of Southern Maryland (CSM) Foundation Board of Directors, and representatives from Charles County Public Schools recently joined the Greater Waldorf Jaycees Foundation for a celebratory dinner to celebrate new and returning scholarship recipients.
Kevin Wedding, president of the Greater Waldorf Jaycees Foundation and a 1985 graduate of CSM, welcomed attendees to the evening and introduced CSM's President Dr. Yolanda Wilson.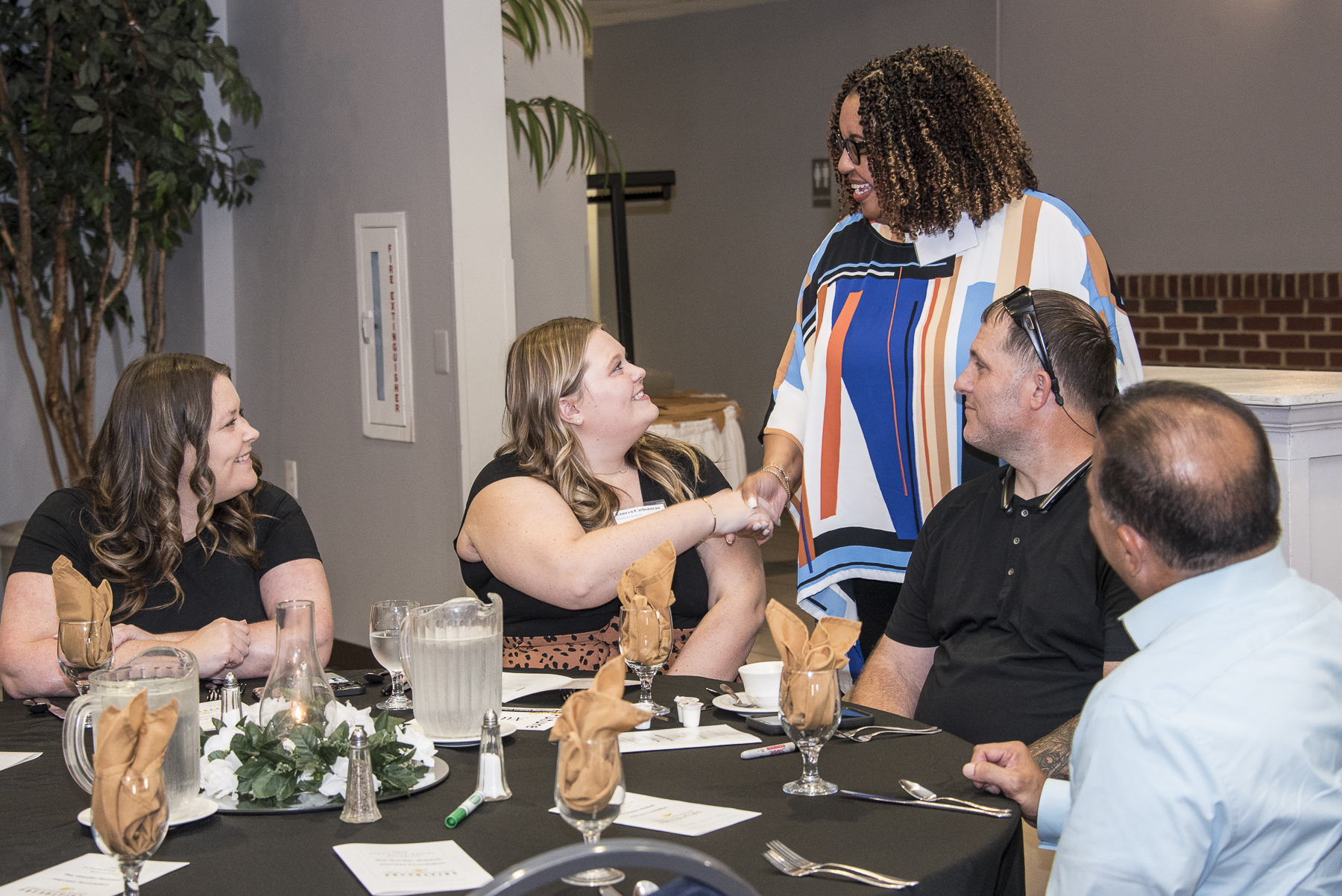 "[Wilson] and the college's faculty and staff are doing some pretty amazing things to make college more accessible for our residents in Charles County," he said. "All of these efforts and more are to help CSM students, and our scholarship recipients, afford college and to make sure you earn workforce credentials, micro-badges, or graduate from CSM and move on to join the growing workforce here in Southern Maryland. Maybe even join the Jaycees, who knows?"
Over the past 24 years, the Greater Waldorf Jaycees Foundation and the CSM Foundation together have awarded 584 Charles County students more than $1.5 million through this shared scholarship fund. Eight scholarships were awarded to new CSM students and seven students from last year were renewed with another scholarship for this coming year.
Wilson recognized honored guests, including the college and career counselors from each of the county high schools, and reflected on the shared goals of CSM and the Jaycees.
"I am keenly focused on creating more opportunities to support our students around access, momentum and mobility," she said. "Here at CSM, we are eager to position our college as a stronger engine of social and economic mobility and we accomplish this through collaborative visioning and building success together. That's where strong partnerships, like the one we have with the Greater Waldorf Jaycees, come in. We are grateful to the Greater Waldorf Jaycees Foundation for their ongoing support of CSM students and for making college more affordable and accessible for our Charles County community."
Wilson then introduced Toni Kruszka '11, interim executive director of the CSM Foundation, who took a moment to congratulate and encourage the students.
"Providing scholarships is not about paying for courses, it is about investing in you and hoping that you use these opportunities wisely to have a profound impact on tomorrow and on our community's future," Kruszka said. "We are honored to partner with the Greater Waldorf Jaycees Foundation in working toward a common goal - to assist you in realizing your academic goals and we strongly believe that this investment in your education will benefit you, your family, and our community."
Student speaker Jasmine Sciarillo then took to the podium to share her story of choosing to study Cybersecurity at CSM. Sciarillo graduated from CSM in May 2023 with an associate of applied science degree in Cybersecurity. She is currently pursuing Bachelor of Science in Cybersecurity and digital forensics with a minor in Software Design and coding at Stevenson University.
Sciarillo attended North Point High School, where she spent four years in the Cisco Networking Academy. Before starting college, she had already secured four pivotal information technology certifications that not only equipped her with essential skills towards her career, but also set the tone for her academic pursuits. These certifications also allowed her to work full-time for Charles County Public Schools as a Computer Analyst while pursuing her degrees.
"As I begin a new chapter of my life, I carry with me not only the knowledge I have acquired but also the connections with incredible people who have supported me along the way," she said. "The recognition for my commitments, inspires me each day to give to my community... I would like to express my sincere gratitude to the Greater Waldorf Jaycees Foundation and the CSM Foundation for their unwavering assistance, both financially and in fostering a nurturing educational environment. Your dedication has allowed students, such as myself, to receive high-quality education."
Sciarillo also thanked her family and then offered advice to this year's scholarship recipients.
"Throughout your studies at the College of Southern Maryland, I encourage you to create the foundation for the life of your dreams," she said. "Continue to give back to the community and pursue academic excellence. I wish you immense success in your aspirations."
Family members, many wearing their own gold "CSM Alumni" ribbons, then congratulated the students for earning scholarships.
2023-3024 Waldorf Jaycees Foundation—CSM Foundation Scholarship Recipients are:
Kamryn Carbonneau
Emma Curry
Haley Elliott
Brady Keech
Corinne Mahaffey
Keana Page
Joseph Rieman
Alexander Vigneault
 Renewed Waldorf Jaycees Foundation—CSM Foundation Scholarship Recipients are: 
Joella Hunger
Scott Kelly
Grady Klaas
Himani Patel
Dwight Stephens
Yazmin Taylor
Jada Thompson
Wedding ended the program by announcing the scholarship recipients with the highest GPA for the previous year. They were Eli Guzzone, Daniel Mears, and Jasmine Sciarillo.
To view photos from this event, visit https://csmphoto.zenfolio.com/p867057021. For more information about scholarships at CSM, visit www.csmd.edu/ScholarshipFinder.
CMS Page Edit