"A good portion of CSM students are adults with responsibilities just like me, and the professors understand that."
The prospect of starting a new educational journey or leveling up one's professional credentials can be daunting; but take it from College of Southern Maryland (CSM) grad Jeffrey Gardiner '20 – taking just one class can be the start of an endeavor that changes your life.
Gardiner's new role as a Project Manager for Charles County Public Schools (CCPS) comes on the heels of completing CSM's Business Management AAS with a concentration in Construction Management. The two-year degree took him 10 years to complete, but with his new degree, he said his increased career mobility, financial security, and his sense of personal accomplishment made the long journey well worth it.
"[Ten years ago,] I felt like I was stuck and I needed something to make me stand out above the other people in my position," he shared. "Now that I'm in my new role, I feel like my self-worth has improved. I'm more of a benefit to the company. I have more responsibility and it's more rewarding."
Gardiner's began takes classes at CSM in 2020 when he was working as a CCPS carpenter and he decided to take advantage of the tuition assistance offered through CCPS to further his education and advance his career. He started with one class at CSM his first semester, and with the encouragement of his wife, Amber, soon found his groove.
Then, life got in the way. He took a semester off when his daughter was born, then additional semesters with the arrival of two more children. But he kept returning to CSM, never taking more than two classes at a time, skipping summer sessions in favor of family time, and slowly collecting the credits he would need to graduate. Ten years after that first class, he proudly accepted his degree.
Gardiner said that as he progressed through his courses, several things kept him motivated including the flexibility of CSM's programming, which allowed him to take classes across multiple locations and even online ensuring he never lost momentum as his needs changed. In addition, Gardiner credits the understanding of his professors and support of his fellow classmates with helping him to thrive even as he balanced his work, family and school.
"A good portion of CSM students are adults with responsibilities just like me, and the professors understand that and are very good," he said. "They didn't cut us slack, but they understand that we have other things going on in our lives."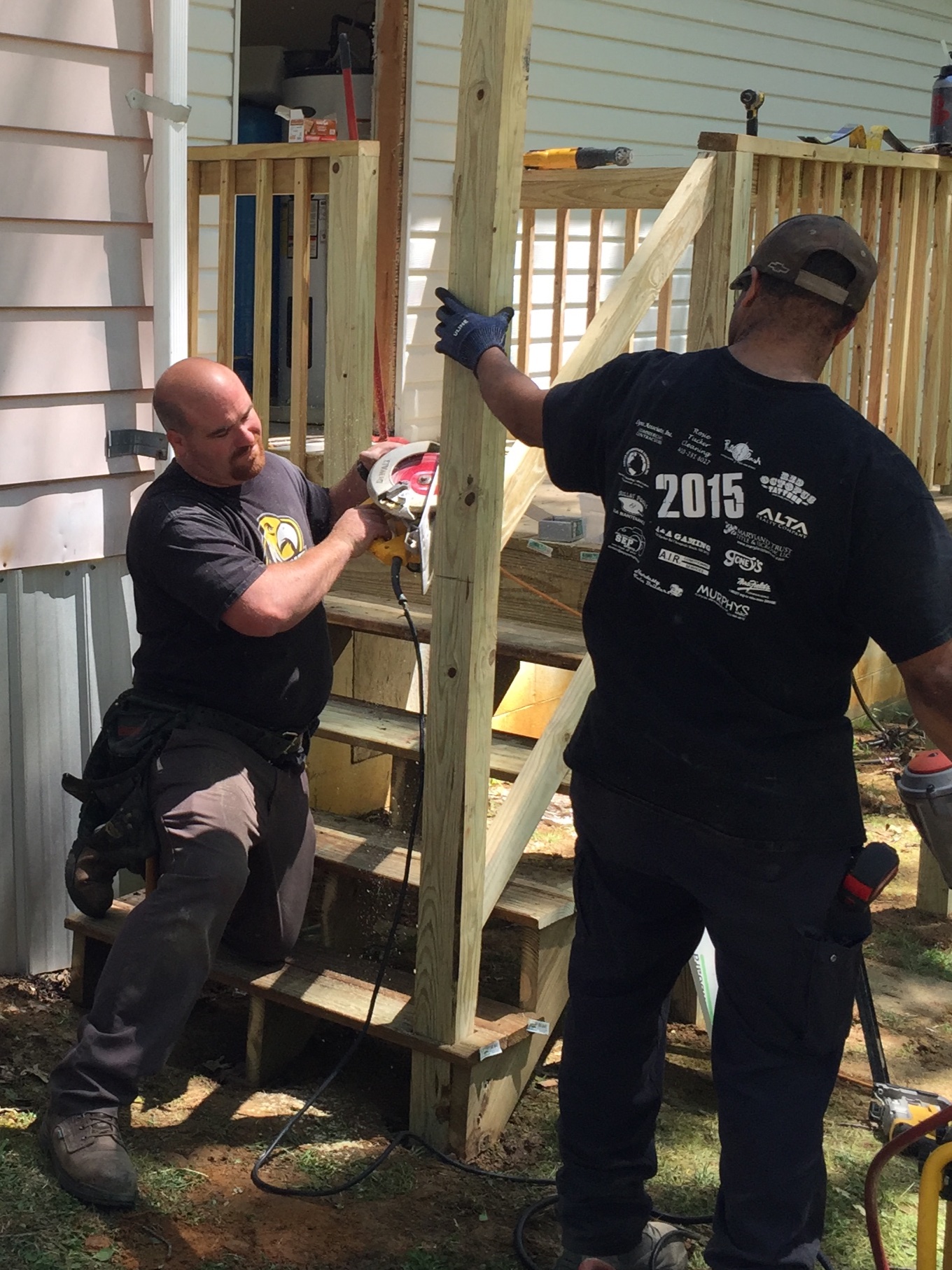 Gardiner, pictured left using the saw, said that he knew that every class he took related to his career goals. While Gardiner was in the program, it transitioned from an associate of applied science (AAS) in Construction Management technology to an AAS in Business Management with a concentration in Construction Management. Stout said that this change allows the college to better focus the program on how students progress in their careers.
According to Tony Stout, chair of CSM's business department, Gardiner's story emphasizes the goal of the Construction Management program – which is to give students knowledge and skills that sets them apart from their peers and makes them more competitive and mobile in the workplace.
"Graduates of the program present both current and potential employers with a well-rounded employee capable of taking on broad responsibilities," Stout said.
 "The focus was not on making students better carpenters, plumbers, electricians, or HVAC specialists," he continued. "The focus of the program is on giving our students the skill sets to make business decisions within the construction industry – and how to understand cost analysis, scheduling impacts, and trade-offs when undertaking a project. This new concentration not only gives the students a broader business background, and it allows them to apply that knowledge to projects and assignments within the construction field."
"From contracts to computers, every class that I took was very much related to the real work that I'm doing now," Gardiner agreed. "Even something as simple as an environmental science class relates to stormwater issues that I deal with now. Some of my favorite classes were the communication classes. Most of my job is dealing with people, and they really gave me some background on the ways that different people and different groups communicate."
Now that Gardiner is in a leadership role, he is encouraging others to follow in his path – even if it takes them 10 years, too.
"I just had this conversation with one of the young guys at a job," he said. "I paid attention to him and noticed he's a hard worker, and I told him to keep pushing forward, you'll go places."
CMS Page Edit