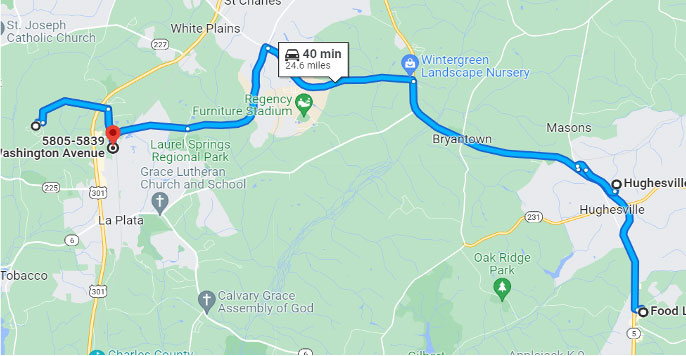 The College of Southern Maryland (CSM) and Charles County government have joined to begin a new bus route that will transport students to CSM's Center for Trades and Energy Training and Center for Health Sciences at the college's Regional Hughesville Campus. In addition, the new CSM Connector bus joins the existing bus lines between Calvert, Charles, and St. Mary's counties and will assist students move between all CSM campuses via quicker routes.
"We are just thrilled to partner with the Charles County Board of Commissioners to provide this critical and needed service to our students," said CSM President Dr. Yolanda Wilson. "Together, we are increasing access to workforce development and training programs with a focus on serving our communities. As CSM centers its work around access, momentum, and mobility, providing free and dependable transportation to our students is core to their success."
CSM and the Charles County Board of Commissioners reached the agreement to provide this free, pilot, bus route, operated by VanGo, at the board's Sept. 12 public meeting. The bus service will begin during the week of Sept. 18.
 "The Charles County Board of Commissioners is pleased to approve the agreement with the College of Southern Maryland to offer VanGO bus service connecting its La Plata campus with its Hughesville campus," said Commissioner President Reuben B. Collins, II, Esq. "This transit service expansion will provide essential and reliable public transportation for all students who rely upon it to access higher education right here in our community."
The CSM Connector provides a convenient way for students using Calvert County Public Transportation (Charlotte Hall Route) or St. Mary's Transportation System (Charlotte Hall Route) to get to the Regional Hughesville Campus or the La Plata Campus for classes or services. The hours of operation are Monday through Thursday from 7 a.m. to 3 p.m. except on CSM holidays or when campuses are closed.
Visit the VanGo website for route information and bus schedules at https://www.charlescountymd.gov/services/transportation/vango-public-transportation
For more information regarding transportation services at CSM, visit https://www.csmd.edu/about/locations/bus-service/ or e-mail the Hawk Hub, hawkhub@csmd.edu.
CMS Page Edit