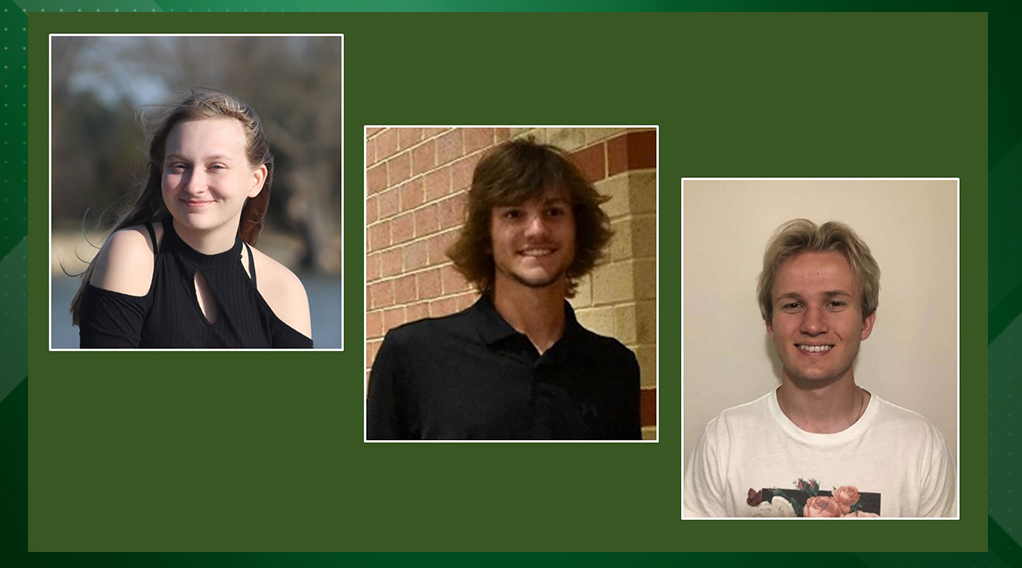 Three southern Maryland high school graduates have been awarded The Patuxent Partnership (TPP) Pathways Scholarship to attend the College of Southern Maryland this fall thanks to the students' exceptional achievements, and a unique partnership between CSM and TPP aimed at building the region's workforce pipeline.
Chopticon High School graduates Skye Blado of Mechanicsville, and David Reynolds of Clements; and McDonough High School graduate Steven McPhee of La Plata, have each received a full scholarship that will cover the cost of tuition, fees and books for up to two years as they work toward engineering degrees.
The Patuxent Partnership Pathways Scholarship, which was established in 2018, supports students who pursue an associate degree in CSM's Mechanical or Electrical engineering programs and then transfer with junior status to University of Maryland (UMD) to earn a bachelor's degree in Mechanical or Electrical Engineering. Students can take all their classes in Southern Maryland, beginning at CSM as they complete their associate degree, followed by classes at the University System of Maryland at Southern Maryland (USMSM) to complete their junior and senior classes with UMD's A. James Clark School of Engineering. Students can also apply for an internship with the Naval Air Warfare Center Aircraft Division, a division of Naval Air System's Command, at Naval Air Station Patuxent River with a possible employment opportunity upon successful graduation and completion of all requirements.
"As a member of The Patuxent Partnership Board of Directors and chair of the Academic Outreach Committee, I want to offer my personal congratulations to the scholarship recipients," said TPP Board of Directors member Tom Phelan. "This is a key step in their academic journey toward an engineering degree, which is a critical skill needed for the Navy and Department of Defense."   
  "The opportunities provided to CSM students through the Patuxent Partnership's scholarship, internship program, and career placement is a wonderful example of how organizations can work together to enhance the lives of southern Maryland residents," said CSM President Dr. Yolanda Wilson. "We are honored to work alongside the Partnership to provide opportunities for students and help support the workforce pipeline for the Naval Air Station Patuxent River and Naval Air Systems Command."
  "I saw everything that [The Patuxent Partnership Pathway Scholarship] offered that could help me get into college for an engineering degree, and even possibly opportunities to get an internship or job in the field, and have attempted to pursue it since, taking as many classes to prepare myself as possible," said Blado.
"I plan on getting a career in engineering and hopefully working at the Patuxent base in my future, so this scholarship lines up perfectly in getting me the experience and education I need to pursue my goals," said McPhee. "With the money from this scholarship I'll be able to spend more time focusing on my education and doing well in my classes rather than worrying about how I'll be paying for them, and I'm just really happy about the opportunity that I've been provided through this scholarship for my future." 
"Community colleges are the greatest vehicle for workforce development within our community, and by investing in students at the College of Southern Maryland, The Patuxent Partnership is not only supporting STEM education, but even more we are creating access, pathways and connections for these students to work with the Navy once they have completed their degree program," said TPP Executive Director Bonnie Green when the scholarship was established.
TPP is a non-profit member organization that works with government, industry and academia to advance education through STEM-based initiatives, to advance technology through speaker programs and networking, to advance science and technology transfer through the exchange of ideas, information and data related to technologies, and to foster workforce development through an array of initiatives. TPP fosters cooperation and collaboration among academia, private industry and government, bringing together the key economic drivers in Southern Maryland to collaborate on growth for the betterment of all.
For information on TPP, visit www.paxpartnership.org. For information on scholarships at CSM, visit https://www.csmd.edu/costs-aid/credit-costs-aid/scholarships-financial-aid/scholarships/. For information about the CSM and UMD Southern Maryland Electrical and Mechanical Engineering partnership, visit https://www.csmd.edu/programs-courses/credit/school-of-professional-technical-studies/engineering-partnership.html.
.
CMS Page Edit