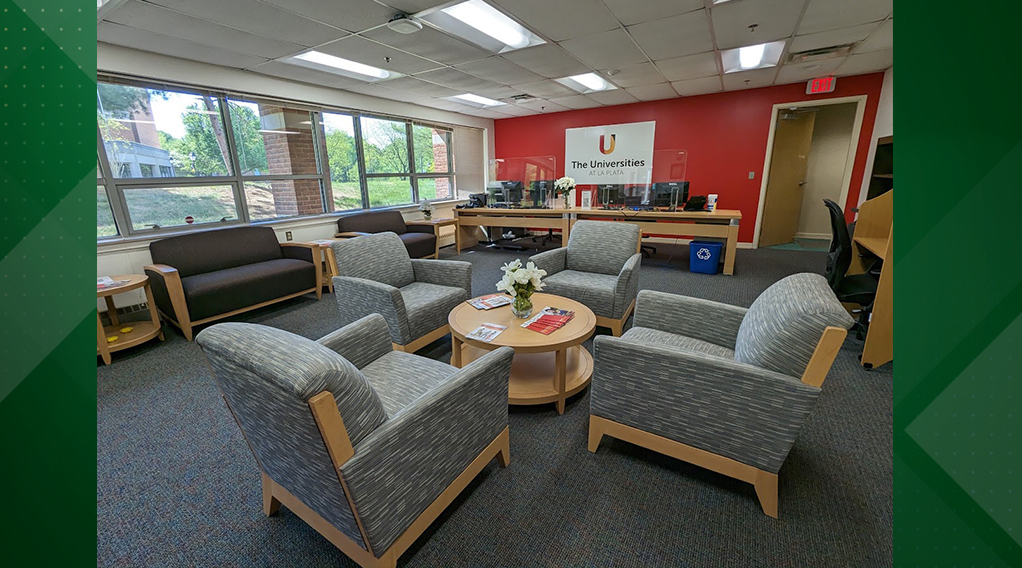 The College of Southern Maryland (CSM) is continuously looking for new ways to partner with four-year universities throughout the state and beyond to make it as easy as possible for students to continue their education after they complete their CSM degree. As part of that effort, CSM has partnered with University of Maryland, Global Campus (UMGC) to open a UMGC location at the La Plata Campus.
The ideal learning environment for students who live or work in Southern Maryland, the location offers computers, study space and direct access to success coaches for either in-person or virtual academic advising. The space is open to current and prospective UMGC students, including current CSM students, and is located on the ground floor of the Learning Resource Center.
In addition to the services offered at the location, UMGC offers classes on CSM's La Plata Campus. Students who complete their associate degree at CSM may also be eligible for UMGC's Completion Scholarship, which will give the student up to $12,000 toward the completion of their bachelor's degree. The average student can already save up to $10,140 by completing their associate degree at CSM and their bachelor's degree at UMGC.
"We recognize that our students are unique individuals coming from many different walks and stages in life, looking to further their education and career goals," said UMGC Success Coach Denise Countiss. "We care about the student success and focus on ways to continue to grow and evolve, always looking for opportunities to better serve our students."
UMGC has a mission to improve the lives of adult learners by operating as Maryland's open university, serving working adults, military service-members, their families and veterans across the United States, and around the world with online and hybrid courses.
CSM has a number of transfer agreements with UMGC, which allow students to seamlessly continue their education at UMGC after completing their associate degree at CSM; they are just some of the more than 280 transfer agreements with 70 colleges and universities that give CSM students priority enrollment or guaranteed admission into partner institutions worldwide.
The CSM La Plata Campus is located at 8730 Mitchell Rd., La Plata, Md. 20646
CMS Page Edit