The College of Southern Maryland (CSM) recognized 532 candidates for 428 degrees and 226 certificates during its 24th Winter Commencement ceremonies Jan. 13. in a day filled with joyous applause, tears, photo sessions and pop up celebrations at the college's La Plata Campus.
The graduates ranged in age from 18 years old to 67 years young, with 40 percent living in Charles County, 27 percent from St. Mary's County, 28 percent from Calvert County and the remainder living out of the area. The most attained degrees were Arts and Sciences, Nursing, Cybersecurity and Business Administration. Twenty-three percent of those earning associate degrees graduated with honors.
This year, CSM held three commencement ceremonies at the Fine Arts Center, Brad and Linda Gottfried Theater and conferred degrees by CSM discipline-specific schools. School of Liberal Arts candidates for graduation received their degrees and certificates at 10 a.m., the School of Science and Health candidates at 1 p.m., and the School of Professional and Technical Studies candidates at 4 p.m.
The college also introduced its first ever livestream of the commencement exercises for family and friends who were unable to attend in person. An estimated 1,000 people tuned into watch the momentous occasion.
'Your bright future awaits'
Dr. Yolanda Wilson, CSM's sixth president and the first African American president to lead the college in its 64-year-history, celebrated her first commencement at the college's helm. She welcomed the graduates at each ceremony with "a personal letter, from my heart to yours, that you can remember for months to come that chronicles your moments as a student, but points you onward to your future."
"Let me remind you that the same grit and determination that you needed to make it thus far will be your blueprint for success; your bright, shining north star," Wilson said. "Continue to draw from that deep well. Knowing your inner core runs so very deep. Remember to lean on your precious loved ones. Appreciate your tribe; love your peeps. Graduates – look ahead, don't turn back. Your bright future awaits."
CSM Faculty Senate President George Bedell also addressed graduates at each ceremony, congratulating students on successfully navigating the challenges of college.
"It's amazing to think about how many great stories there are right here in this theater, stories of students who faced up to all the uncertainty of the new and the unknown, but stayed focused on the goal, and are now here to be recognized for that resilience," Bedell said. "On behalf of the faculty, I want to commend and congratulate you all."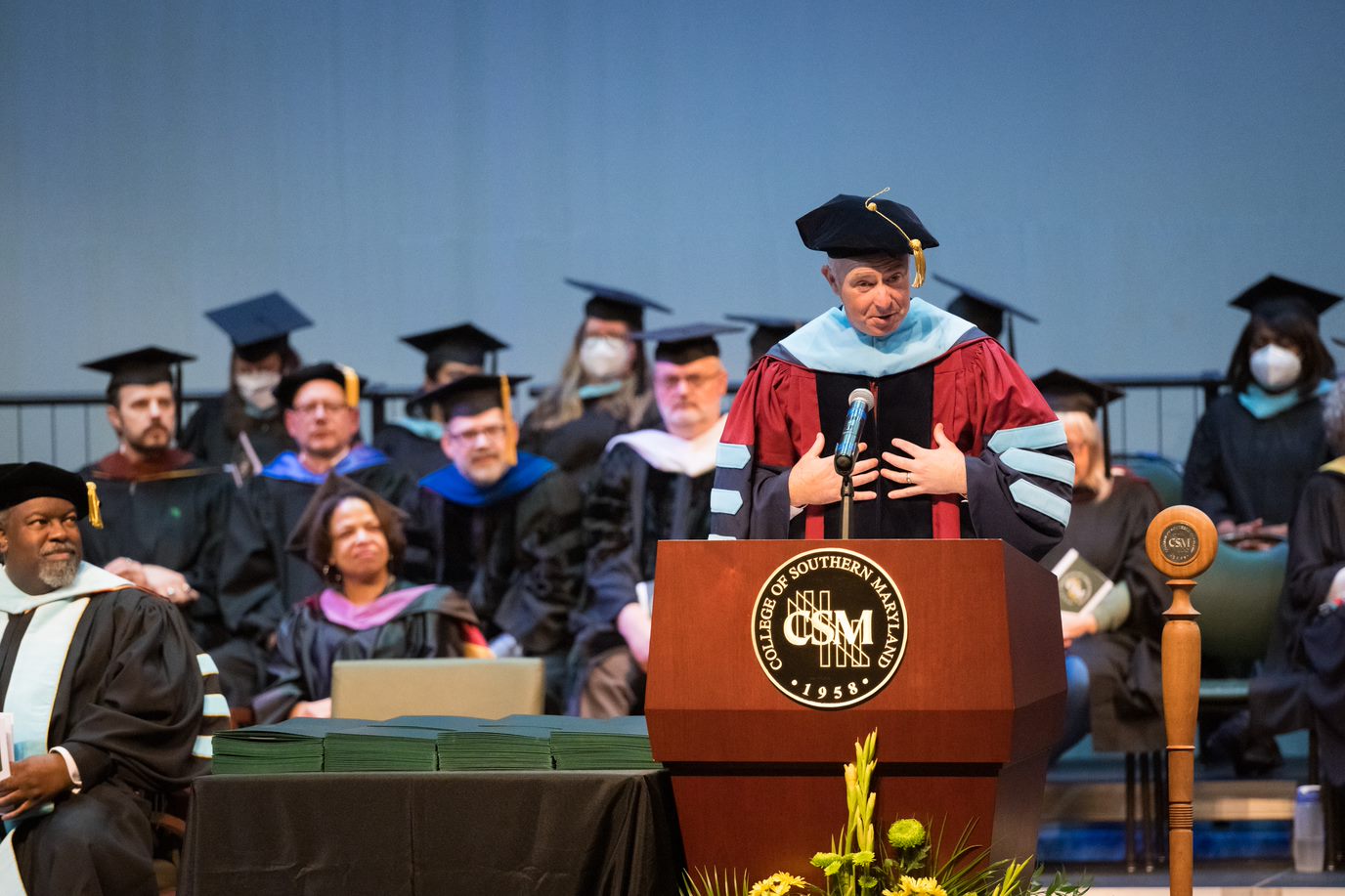 The keynote speaker at each ceremony was Executive Director of the Maryland Association of Community Colleges (MACC) Dr. Brad Phillips, pictured left.
"It is in moments like today that I strongly encourage you to reflect on the challenges that you have overcome, recognize that moment within yourself, that you chose the response that led to growth and freedom from all the overwhelming obstacles that tried to keep you from achieving your goals," Phillips told graduates. "It should be emotional! In fact, the feeling of accomplishment you have at making your aspirations a reality is what I hope each of you feel going forward in life as lifelong learners. Recognizing this moment in each of your lives is how you can create meaning and purpose. It is also how one can silence negative thoughts that keep you from growing."   
School of Liberal Arts: 'CSM saw the positive and beautiful things in me'
The School of Liberal Arts ceremony began with a processional led by Professor Neal Dwyer and an inspiring rendition of the national anthem sung by CSM student Patrick Wathen '23.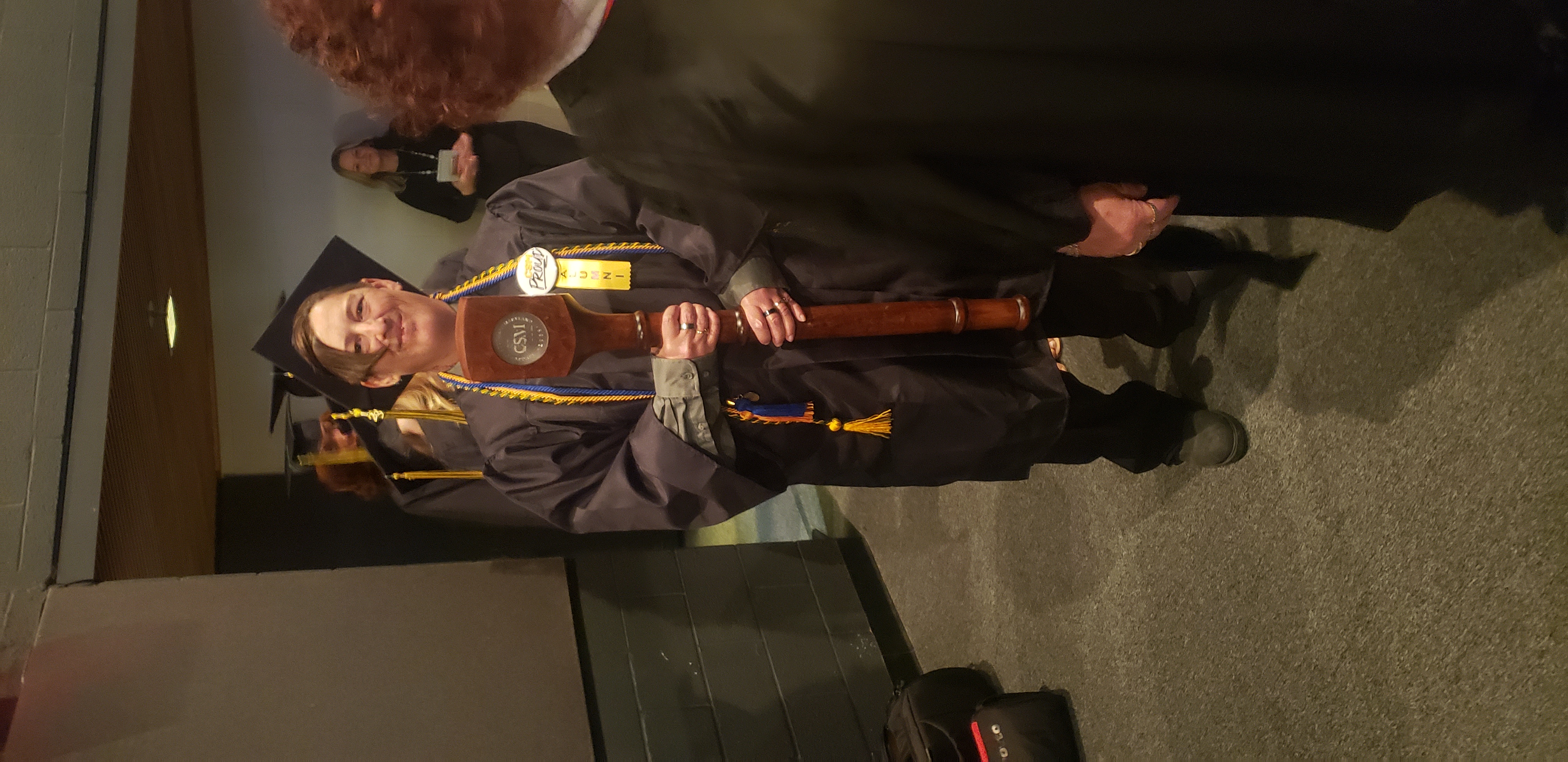 Graduating student Naomi Snoots, of King George, took to the podium to address her classmates as their student speaker. She will graduate with her AA degree in General Education and a Mental Health Certificate. Snoots shared that she is a suicide survivor, and that CSM helped her to discover her "true-life purpose" to help people "move from pain and surviving to hope and thriving."  She is currently a Drug and Alcohol Counselor trainee and will be attending Salisbury University to become a social worker.
"During my journey at CSM, I have learned more than I could have ever imagined and it's because of all my advisors and professors who had faith in me and gave me the knowledge that has made me a stronger person," Snoots said. "CSM helped me to look at all the positive and beautiful things in life. And CSM saw the positive and beautiful things in me." 
Before the degrees were conferred, Bedell presented the Adjunct Faculty Excellence award to Adjunct Professor of Communication Gina Johnson. The honor is given yearly to an adjunct faculty member for outstanding achievement in classroom teaching, contributions both to their department and the college, professional development and community commitment. (Please see "CSM Honors Communication Professor Gina Johnson With Adjunct Faculty Excellence Award.")
School of Science and Health: 'Take the opportunities that are given to you and make them yours'
At the 1 p.m. commencement, the processional of proud students was led by Sharon Smith-Douglas, and CSM student Claire Alcorn inspired with her rendition of the national anthem.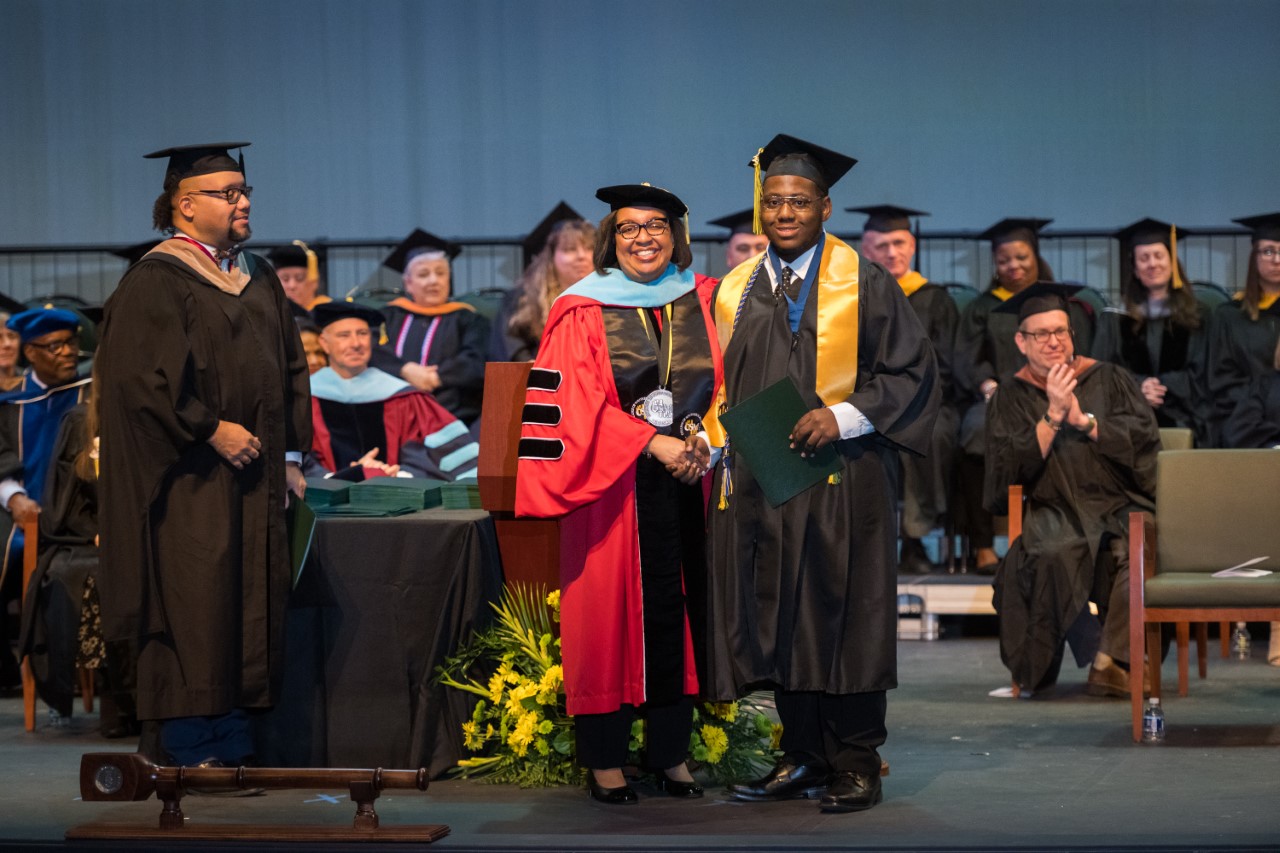 Student representative Reginald Melvin Black then stood to address his classmates. Black, who earned his degree in Sports Management, shared that he chose CSM so he could stay close to home, and because CSM was more affordable and caring. He is transferring to Bowie State, where he will continue his studies to become a broadcast sports analyst.
"My advice to you as we all step into this world and take our next steps – is to take the opportunities that are given to you and make them yours for good," he advised. "Don't hesitate to work hard. Keep your mind open and learn everything you can – keep your standards high. You will have haters, but instead of hating back, let those haters always be your biggest motivators."
Black also asked his classmates for a favor.
"You see, I know I am going to be a good sports analyst because I plan to work hard," he said. "So, keep an eye out for me because I need to start building my fan base now!"
School of Professional and Technical Studies: 'The responsibility for our own future lies with each of us'
The final ceremony got underway with a processional led by Professor Andrea Ronaldi. Alcorn once again sang the national anthem as the ceremony began.
CSM student Jaelene Amaya Perez, who graduated with a degree in Electrical Engineering, shared her story and words of wisdom with the class. Perez was born in the United States, but grew up in Mexico with her family. She returned to the U.S. emancipated from her parents, to live with her aunt and attend high school. While she started with English as her second language, she earned the position of valedictorian of her high school class before attending CSM. Now with her AS in hand, she plans to transfer to University of Maryland at Southern Maryland to finish her four-year degree in engineering.
"I have learned that preschool is a base, elementary school a trance, secondary school and high school a development, college is the culmination of an entire cycle," she said. "College has been a time of learning about ourselves and opening ourselves up to learn about others. Decisions are made day after day, and we learn to deal with the consequences, and that is when we learn that the responsibility for our own future lies with each of us.
"Someone once told me: Fear is nothing more than an obstacle of your own with which others will collaborate to make you give up, but today I show myself – and we are all showing the world – that it is possible to do everything you set your mind to if you stay committed," she added. 
Also honored at this ceremony was Harry Shasho, who was presented with an honorary degree by CSM Board of Trustees Chair Shawn Coates in recognition of his commitment to and support of higher education and his significant contributions to CSM. (Please see 'CSM Presents Harry Shasho with Honorary Degree')
A video of each commencement will also be available for viewing on the college's YouTube channel -- https://www.youtube.com/@CSMDTube/playlists. Photos from graduation are now available at csmphoto.zenfolio.com/23jangrad. Photos are free to download.
CMS Page Edit