It is no longer "business as usual" at the College of Southern Maryland (CSM). The college has recently reimagined its Business Management Program by offering new curriculum; inducted business students into the college's very first chapter of the Kappa Beta Delta Honor Society; and formed a new Business and Accounting Club so that students can better connect with one another and local businesses.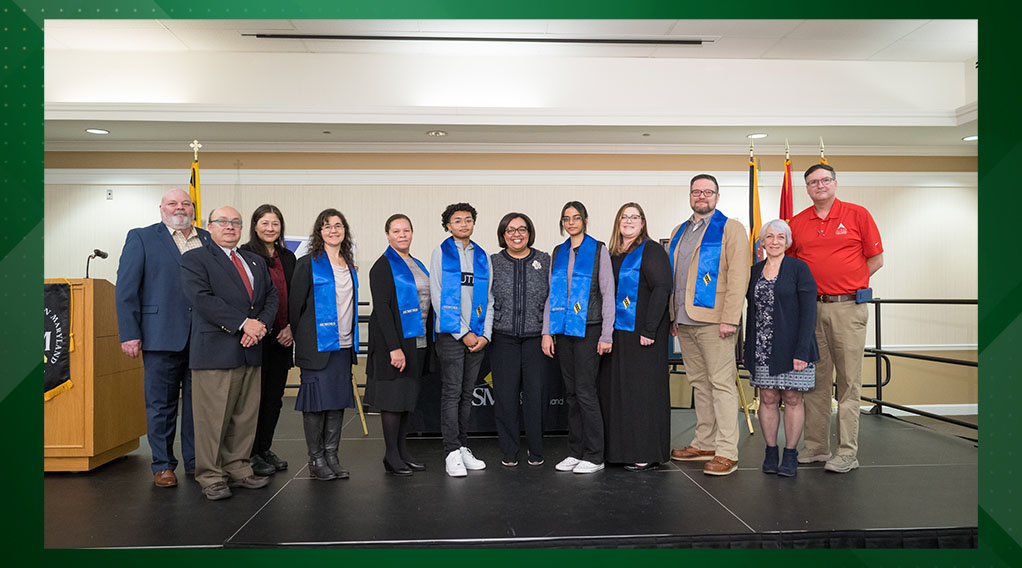 Kappa Beta Delta
Several students were celebrated earlier this month when they were received into the Kappa Beta Delta Honor Society during an inaugural induction ceremony held at the La Plata Campus. The international society invites students to join Delta Phi – CSM's new chapter of Kappa Beta Delta – because they are in the top 20 percent of their class.
"You have our collective support and admiration," said CSM Business Chair Tony Stout when welcoming the students to the honor society. "Our belief is that you will do great things in your academic and professional careers." 
"We believe in your potential and in what you will give back to this community," echoed CSM President Dr. Yolanda Wilson. "We know you have a goal, a dream, and a desire in your heart, and we say go for it!  We need you and we need your talent." 
The first students to be inducted into Kappa Beta Delta are Areeba Asim, Chontelle Freeman, Kasey Gatton, Aleigha Hammons, Kayla Jenkins, Christopher Jones, Tracey Byrne, Lauren Davis, Heather Murphy and Sharon Oby. 
Murphy said she is adding an associate degree in Business to her portfolio of academic achievements and degrees because she is a lifelong learner. For her, induction into the college's first chapter of Kappa Beta Delta is an exciting opportunity.
"I know this honor society will open up more networks for me and will join me with like-minded students," said Murphy, who is CSM's Interim Student Engagement Coordinator. "There is new energy in all of my business classes. There is more forward motion, more enriching curriculum, and more flexibility. We are all having a lot of fun." 
Business and Accounting Club Meets Feb. 2
The college's new Business and Accounting Club provides students with a chance to network and get out into the community to understand the local business landscape, shared the club's faculty sponsor Kathy Mead. She said the club is planning meetings that involve connecting with local leaders, conducting service projects and heading out on field trips. 
"A lot of students, when they think businesses, they think of either a huge business or starting their own companies, so we want to really introduce them to all of the different things that they can do with this degree," Mead said, noting that leadership skills learned through business are applicable to many different career fields. "Taking a leadership role in a club is really good practice for leadership opportunities in other parts of their lives." 
"I joined the business and accounting club because I always wanted a place where people who have a similar interest for the business field can communicate with one another," said club president King Nova Cupid-Ramirez, of Prince Frederick. "I want people who are interested in the business side of things just be able to talk with one another, have a laugh and get the help needed for navigating the business field." 
"I like the idea of networking, joining the community and business industry sector, and helping our peers learn about additional education opportunities," agreed student Julie Knott of Hollywood. 
The department also connects the business community to campus through an ongoing speaker series that brings in speakers and panels to address timely topics, such as the pros and cons of starting your own business, advertising yourself, and resolving conflict in the workplace. The club will hold its next meeting Feb 2. 
"We want to give everyone at CSM and the local community the opportunity to come and listen to someone with experience in the field to give them an idea of what is out there and how to build their career," said Instructor Jeffrey Hunt. Hunt was recently named CSM's first endowed faculty member on innovation, a role that will afford him even more opportunities to build connections between CSM and the region's entrepreneurial community.
CSM Works with Local Business to Make Program Changes
The addition of a new honor society and business-oriented extracurricular club are just two of many changes for CSM's Business program. The pathway has recently been restructured to better meet the needs of students and the local community, explained Stout. 
Stout said he spent two years performing needs assessments with local businesses and amassed more than 100 responses. The most common threads in the feedback ultimately became the core requirements for the business management program. More industry-specific needs grew into six new concentrations: Business Management, Construction Management, Digital Marketing Management, Hospitality Management, Retail Management, Small Business, and Entrepreneurship and Technology Management.
 "[The needs assessment] allowed us to confirm that the ideas we have in motion really are meeting the needs of the local workforce," said Stout. "First and foremost, our job is to educate people with the skills that are needed in this community." 
In addition to tailoring the program to the local business economy, the department also worked to balance the needs of students entering the workforce after leaving CSM with those who will transfer to another institution to continue their education. 
"We wanted students to have enough skills that they can be successful in the workforce, but also have the core courses that will transfer," Stout said. 
More information about the CSM Business programs can be found at https://www.csmd.edu/programs-courses/credit/school-of-professional-technical-studies/index.html.
To view or download photos from the induction ceremony, please visit https://csmphoto.zenfolio.com/p501485850.
About Kappa Beta Delta: To host a chapter of Kappa Beta Delta, a school must be accredited by the Accreditation Council for Business Schools & Programs (ACBSP). ACBSP is present at more than 1,000 campuses across the globe including over 160 associate degrees institutions. CSM's accounting, business administration and business management programs are all ACBSP accredited. CSM's Kappa Beta Delta chapter is generously supported by Educational Systems Federal Credit Union.
CMS Page Edit